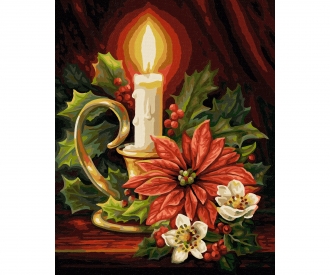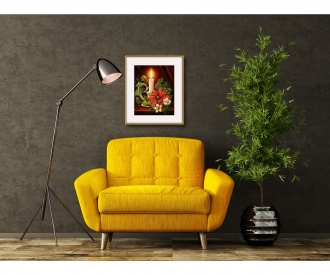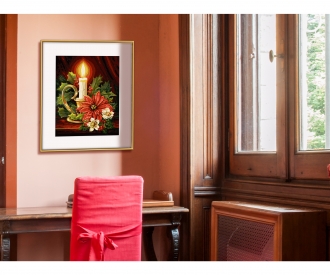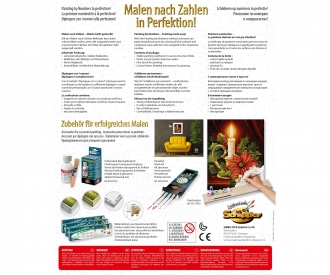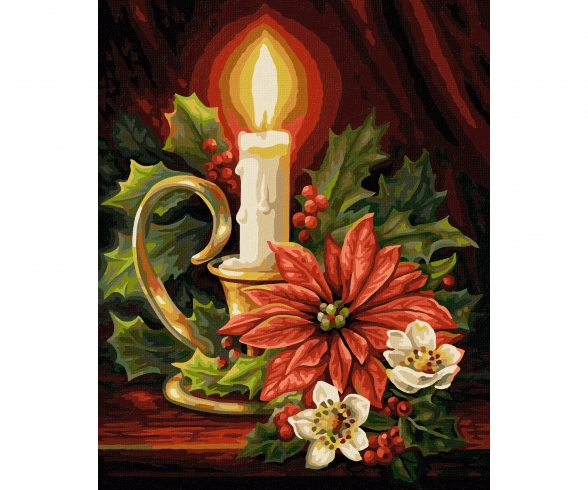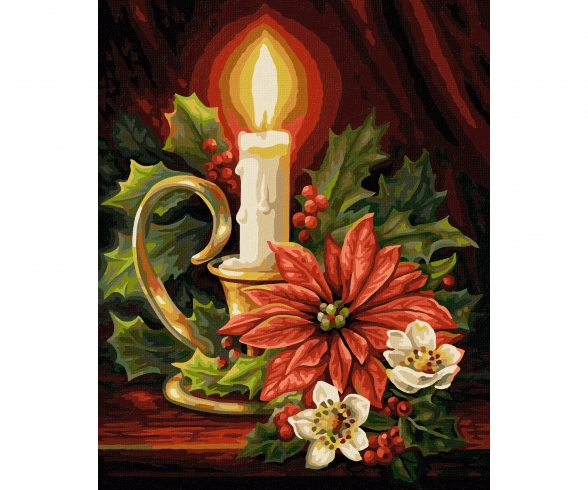 Quantity:
1
2
3
4
5
6
7
8
9
10
11
12
13
14
15
16
17
18
19
20
21
22
23
24
25
26
27
28
29
30
in stock, Delivery time 1-3 working days within Germany
Christmas
When the evenings will become longer it is time to paint a Christmas picture. The Christmassy painting with a golden chandelier and a floral arrangement is dominated by warm colors. In its center, there is a candle burning bright that bathes the decoration made up from holly, poinsettia and black hellebore into a comfortable and relaxing light. A very attractive painting that gives the hobby painter a feeling of Christmas.
Format and painting template:
"MASTERCLASS Classics". The paintings sized 24 x 30 cm fit extremely well into a small picture gallery or a wall full of paintings. Nicely presented in groups or decoratively hung up on a wall, they are true eye catchers. The template has a palpable and visible canvas structure that does not only improve the visual impact of the finished painting, but also stresses the artistic character of the painting and the desired "oil-on-canvas effect". Hint: SCHIPPER Arts & Crafts has the matching aluminum frames on offer for this format. Please go to the start page of our homepage and click onto the menu bar "painting themes/accessories".
Contents of the box:
Rigid painting cardboard with canvas structure finish, size 24 x 30 cm. Precise pre-printed contours with well legible numbers. Water-based acrylic paints. Ready-to-paint pre-mixed colors. Brush with fine tip. Control template and detailed instructions for successful results.
_________________________________________________________________________________
IT
Il soggetto:
Natale
Quando le serate tornano a farsi più lunghe è tempo di dipingere pensando alle feste che si avvicinano. In quest'immagine natalizia con bugia dorata e composizione floreale dominano colori dalle tonalità calde: al centro del quadro troneggia la candela accesa il cui bagliore immerge in una gradevole luce rilassante l'arrangiamento di agrifoglio, stella di Natale ed elleboro. Un soggetto pervaso di atmosfera natalizia particolarmente affascinante per la pittura per hobby.
Misura del quadro e supporto per la pittura:
"CAPOLAVORI classici". I quadri in formato 24 x 30 cm sono perfetti per creare una piccola pinacoteca o rivestire un'intera parete. Raggruppati ad arte e decorati da belle cornici saranno il vero cattura-sguardi di ogni casa. Il supporto per la pittura ha una struttura simil-lino, percepibile alla vista e al tatto, che non migliora soltanto di molto l'aspetto generale del quadro finito, bensì ne sottolinea anche il carattere pittorico suggerendo il desiderato effetto "olio su tela". Nota bene: la SCHIPPER Arts & Crafts dispone di cornici in alluminio adatte a questo formato. Vedi il nostro sito web, pagina principale, menu "Quadro per tema", punto "Accessori".
La confezione contiene:
Pannello in cartone robusto con struttura simil-lino 24 x 30 cm. Traccia dai contorni precisi con numeri ben leggibili. Colori acrilici a base di acqua (non serve mescolarli tra loro). Pennello sottile. Foglio di controllo e istruzioni dettagliate per un ottimo risultato.
_________________________________________________________________________________
NL
Het motief:
Kerstmis
Als de avonden weer langer worden, is het tijd een kerstschilderij te maken: in het kerstschilderij met gouden kerstkandelaar en bloemstuk geven warme tinten de toon aan. In het middelpunt staat de brandende kaars; het schijnsel dompelt de decoratie van hulst, kerstster en kerstroos in een prettig ontspannend licht. Een sfeerbeeld in kerststemming dat bijzonder aantrekkelijk is voor de hobbyschilder.
Het beeldformaat en schildervoorbeeld:
"MEESTERKLASSE Klassieker". De schilderijen in het formaat 24 x 30 cm zijn heel geschikt voor een kleine galerij of een muur met schilderijen. Fraai gegroepeerd en decoratief opgehangen vormen zij een blikvang in elk huis. Het schildervoorbeeld heeft een voel- en zichtbare linnenstructuur. Daardoor wordt het schilderij uiteindelijk niet alleen aanzienlijk mooier, maar het geschilderde karakter van de afbeelding wordt tevens onderstreept en het gewenste "olie-op-doek-effect" ondersteund. N.B.: SCHIPPER Arts & Crafts heeft voor dit beeldformaat passende aluminium lijsten in het assortiment. Kijk hiervoor op de homepage-startpagina, menubalk "Toebehoren".
Inhoud van de verpakking:
Stevig schilderkarton met linnenstructuur 24 x 30 cm. Exacte contourtekeningen met goed leesbare getallen. Acrylverf op waterbasis in verschillende kleuren. Verf mengen niet nodig. Fijne schilderspenseel. Controleblad en uitvoerige instructies voor succesvol schilderen.

Warning! Not suitable for children under 3 years due to small parts. Choking hazard!
Frequently bought together
Frequently bought together