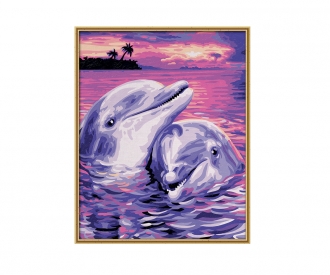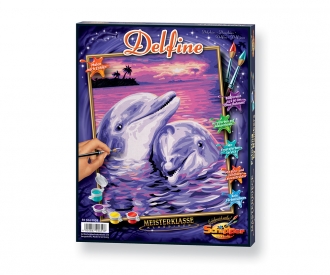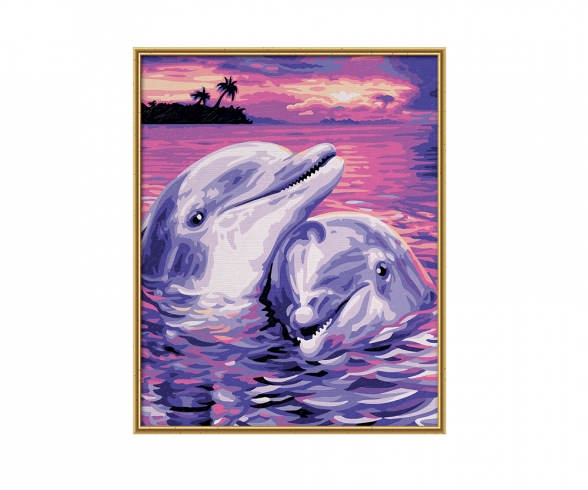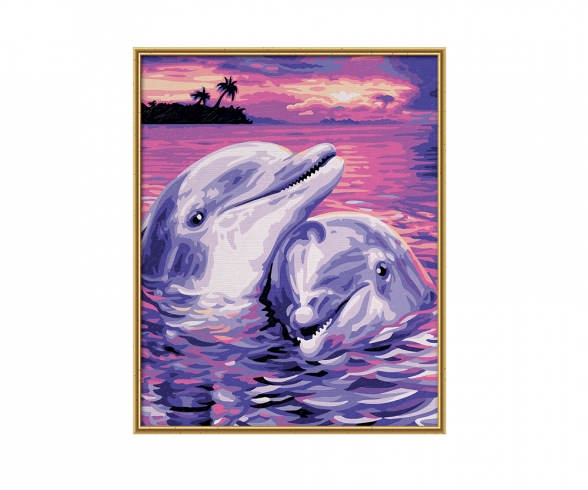 Quantity:
1
2
3
4
5
6
7
8
9
10
11
12
13
14
15
16
17
18
19
20
21
22
23
24
25
26
27
28
29
30
in stock, Delivery time 1-3 working days within Germany
The motif: "Dolphins"
Flipper from the famous TV series has been our children's favorite ever since this time and thanks to him, dolphins are very popular. Who hasn't dreamt of gliding through the waves together with other elegant swimmers and to turn one somersault after the other just as boldly as the dolphins do? We see human traits in these animals because of their curved mouth and their natural curiosity. We would love to show them affection like our two "dolphins" in the picture.
Picture format and painting template:
"MASTERPIECE CLASSICS". These pictures sized 24 x 30 cm go with all reasonably priced clip-on picture frames available in building centers. For a small picture gallery, they can be nicely grouped and hung up in a decorative way. The painting templates have a visible and palpable canvas structure. Due to this feature, the finished painting's appearance is not only essentially enhanced but it also emphasizes the artistic character of the paintings by supporting the desired oil "on canvas effect".
Contents of the box:
Rigid painting cardboard with canvas structure finish, size 24 x 30 cm. Precise pre-printed contours with well legible numbers. Water-based acrylic paints. Ready-to-paint pre-mixed colors. Brush with fine tip. Control template and detailed instructions for successful results.
..............................
I
Il soggetto: "Delfini"
Il Flipper del noto film è da tempo l'animale preferito dei nostri figli e grazie a lui i delfini godono di grande popolarità. Chi non ha mai sognato di scivolare sulle onde con questi eleganti nuotatori e fare insieme a loro temerari salti mortali? I loro tratti facciali con il tipico "sorriso" e la loro naturale curiosità ce li fanno apparire così umani e invitano a coccolarli, come fanno i nostri due delfini nel dipinto.
Misura del q'uadro e supporto per la pittura:
"MEISTERKLASSE i Classici". Per i dipinti in formato 24 x 30 cm si possono usare le cornici a giorno comunemente reperibili in commercio a prezzo conveniente, ad esempio nei negozi di bricolage. Per creare una piccola pinacoteca personale si possono appendere raggruppati con gusto ottenendo un bell'effetto decorativo. Il supporto per la pittura ha una struttura simil-lino, percepibile alla vista e al tatto, che non migliora soltanto di molto l'aspetto generale del quadro finito, bensì ne sottolinea anche il carattere pittorico suggerendo il desiderato effetto "olio su tela".
La confezione contiene:
Pannello in cartone robusto con struttura simil-lino 24 x 30 cm. Traccia dai contorni precisi con numeri ben leggibili. Colori acrilici a base di acqua (non serve mescolarli tra loro). Pennello sottile. Foglio di controllo e istruzioni dettagliate per un ottimo risultato.
..............................
NL
Het motief: "Dolfijnen"
Flipper uit de bekende televisieserie is sinds die tijd de speciale lieveling van onze kinderen en dankzij hem verheugen dolfijnen zich in grote populariteit. Wie heeft niet al een keer de droom gehad, samen met de gracieuze zwemmers door de golven te glijden en even doldriest de ene salto na de andere te maken? Wegens hun gekrulde bek en hun natuurlijke nieuwsgierigheid zien wij menselijke trekken in ze en zouden graag met ze willen knuffelen, zoals onze beide dolfijnen op de afbeelding.
Beeldformaat en schildervoorbeeld:
"MEESTERKLASSE Klassieker". Schilderijen in het formaat 24 x 30 cm passen in gebruikelijke wissellijsten, die in bouwmarkten voordelig te krijgen zijn. Voor een kleine schilderijenverzameling kunnen zij fraai worden gegroepeerd en decoratief opgehangen. Het schildervoorbeeld heeft een voel- en zichtbare linnenstructuur. Daardoor wordt het schilderij uiteindelijk niet alleen mooier, maar het geschilderde karakter van de afbeelding wordt onderstreept en het gewenste "olie-op-doek-effect" ondersteund.
Inhoud van de verpakking:
Stevig schilderkarton met linnenstructuur 24 x 30 cm. Exacte contourtekeningen met goed leesbare getallen. Acrylverf op waterbasis in verschillende kleuren. Verf mengen niet nodig. Fijne schilderspenseel. Controleblad en uitvoerige instructies voor succesvol schilderen.

Warning! Not suitable for children under 3 years due to small parts. Choking hazard!
Frequently bought together
Frequently bought together