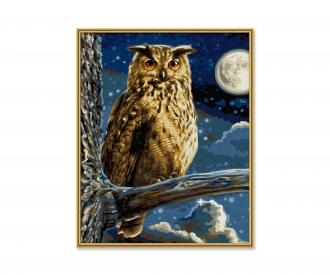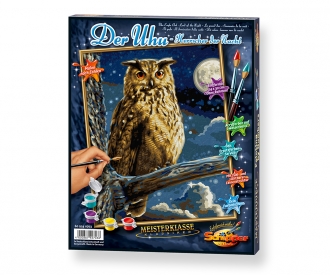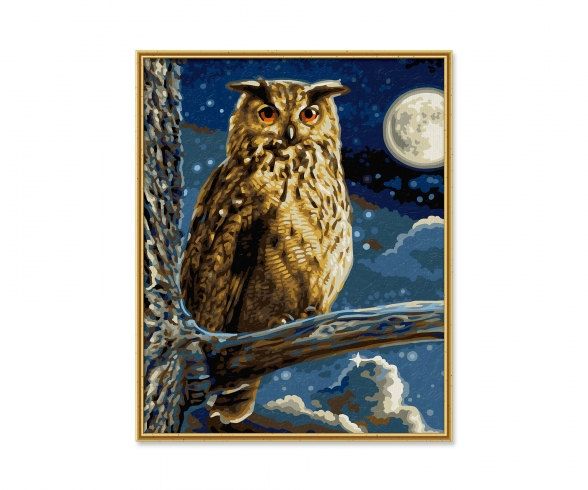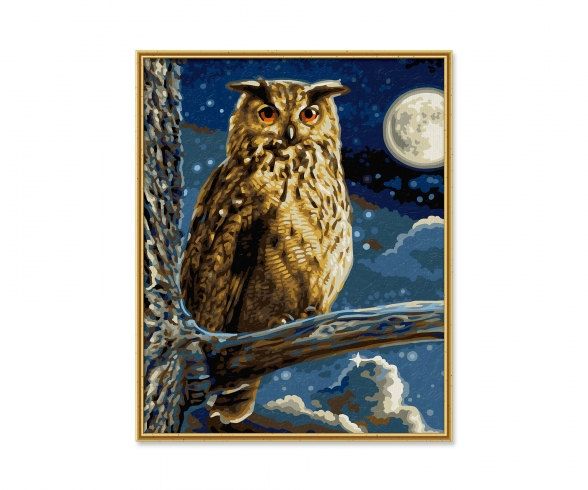 Quantity:
1
2
3
4
5
6
7
8
9
10
11
12
13
14
15
16
17
18
19
20
21
22
23
24
25
26
27
28
29
30
The motif: "The Eagle Owl – Lord of the Night"
With its body length of 67 cm, the eagle owl is the biggest owl, called the "Lord of the Night". Due to its size, its upright posture, and its proud way of sitting on a branch, it commands respect and radiates dignity. Its magnificent plumage with the harmonious shades of brown of the individual feathers gives great painting pleasure to young and old hobby artists. The finished picture shows a majestic bird, looking down on the viewer from its elevated throne.
Picture format and painting template:
"MASTERPIECE CLASSICS". These pictures sized 24 x 30 cm go with all reasonably priced clip-on picture frames available in building centers. For a small picture gallery, they can be nicely grouped and hung up in a decorative way. The painting templates have a visible and palpable canvas structure. Due to this feature, the finished painting's appearance is not only essentially enhanced but it also emphasizes the artistic character of the paintings by supporting the desired oil "on canvas effect".
Contents of the box:
Rigid painting cardboard with canvas structure finish, size 24 x 30 cm. Precise pre-printed contours with well legible numbers. Water-based acrylic paints. Ready-to-paint pre-mixed colors. Brush with fine tip. Control template and detailed instructions for successful results.
..............................
I
Il soggetto: "Il gufo – Il dominatore della notte"
Con i suoi 67 cm di lunghezza il gufo è l'uccello più grande della famiglia degli Strigidi ed è chiamato anche "signore della notte". Per le sue dimensioni, il portamento eretto e il modo fiero con cui si appollaia sui rami emana dignità e incute rispetto. Lo splendido piumaggio, con le penne dalle mille sfumature di marrone armonicamente intonate tra loro, diletta chiunque si cimenti nel dipingerlo, sia grandi sia piccini. Il risultato è un uccello maestoso che scruta imponente l'osservatore dall'alto del suo trono.
Misura del q'uadro e supporto per la pittura:
"MEISTERKLASSE i Classici". Per i dipinti in formato 24 x 30 cm si possono usare le cornici a giorno comunemente reperibili in commercio a prezzo conveniente, ad esempio nei negozi di bricolage. Per creare una piccola pinacoteca personale si possono appendere raggruppati con gusto ottenendo un bell'effetto decorativo. Il supporto per la pittura ha una struttura simil-lino, percepibile alla vista e al tatto, che non migliora soltanto di molto l'aspetto generale del quadro finito, bensì ne sottolinea anche il carattere pittorico suggerendo il desiderato effetto "olio su tela".
La confezione contiene:
Pannello in cartone robusto con struttura simil-lino 24 x 30 cm. Traccia dai contorni precisi con numeri ben leggibili. Colori acrilici a base di acqua (non serve mescolarli tra loro). Pennello sottile. Foglio di controllo e istruzioni dettagliate per un ottimo risultato.
..............................
NL
Het motief: "De oehoe – heerser van de nacht"
De oehoe is met zijn lichaamslengte van 67 cm de grootste uil; hij wordt ook wel "heerser van de nacht" genoemd. Vanwege zijn grootte, zijn rechte houding en de trotse manier waarop hij op een tak zit, straalt hij waardigheid uit en noodt tot respect. Zijn prachtige verenkleed met de harmonisch bij elkaar passende tinten bruin is voor de kleine en de grote hobbyschilder een genot om te schilderen. Het resultaat is een majestatische vogel, die vanaf zijn troon verheven op je neerkijkt.
Beeldformaat en schildervoorbeeld:
"MEESTERKLASSE Klassieker". Schilderijen in het formaat 24 x 30 cm passen in gebruikelijke wissellijsten, die in bouwmarkten voordelig te krijgen zijn. Voor een kleine schilderijenverzameling kunnen zij fraai worden gegroepeerd en decoratief opgehangen. Het schildervoorbeeld heeft een voel- en zichtbare linnenstructuur. Daardoor wordt het schilderij uiteindelijk niet alleen mooier, maar het geschilderde karakter van de afbeelding wordt onderstreept en het gewenste "olie-op-doek-effect" ondersteund.
Inhoud van de verpakking:
Stevig schilderkarton met linnenstructuur 24 x 30 cm. Exacte contourtekeningen met goed leesbare getallen. Acrylverf op waterbasis in verschillende kleuren. Verf mengen niet nodig. Fijne schilderspenseel. Controleblad en uitvoerige instructies voor succesvol schilderen.

Warning! Not suitable for children under 3 years due to small parts. Choking hazard!
Frequently bought together
Frequently bought together