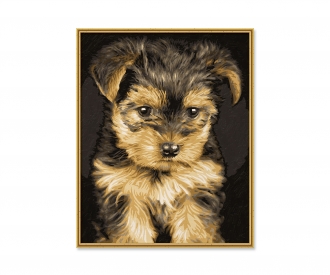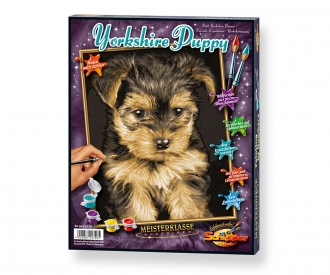 Quantity:
1
2
3
4
5
6
7
8
9
10
11
12
13
14
15
16
17
18
19
20
21
22
23
24
25
26
27
28
29
30
The motif: "Yorkshire Puppy"
The sweet, little Yorkshire terrier still has to grow up. Nevertheless this self-confident, vivid and intelligent dog will always be one of the smallest dogs. He is an attentive watchdog and he is neither afraid of bigger dogs nor of strangers. By the end of the 19th century, he was bred in the English County of Yorkshire to keep the cities free from rats and mice. Every hobby painter will enjoy painting this irresistible puppy. Most of all one would like to stroke and hug him.
Picture format and painting template:
"MASTERPIECE CLASSICS". These pictures sized 24 x 30 cm go with all reasonably priced clip-on picture frames available in building centers. For a small picture gallery, they can be nicely grouped and hung up in a decorative way. The painting templates have a visible and palpable canvas structure. Due to this feature, the finished painting's appearance is not only essentially enhanced but it also emphasizes the artistic character of the paintings by supporting the desired oil "on canvas effect".
Contents of the box:
Rigid painting cardboard with canvas structure finish, size 24 x 30 cm. Precise pre-printed contours with well legible numbers. Water-based acrylic paints. Ready-to-paint pre-mixed colors. Brush with fine tip. Control template and detailed instructions for successful results.
..............................
I
Il soggetto: "Cucciolo di yorkshire"
Questo dolcissimo "Yorkshire Terrier" deve ancora crescere ma, anche da grande, resterà pur sempre di taglia piccola. È sicuro di sé, vivace e intelligente. Da bravo cane da guardia è attento, temerario e non indietreggia davanti ai suoi simili più grandi e alle persone estranee. La razza è stata allevata alla fine del 19° secolo nella contea inglese dello Yorkshire allo scopo di tenere lontani dalle città topi e ratti. Dipingere questo adorabile cuccioletto farà la gioia di tutti gli artisti per hobby: viene una gran voglia di accarezzarlo e di prenderlo in braccio!
Misura del q'uadro e supporto per la pittura:
"MEISTERKLASSE i Classici". Per i dipinti in formato 24 x 30 cm si possono usare le cornici a giorno comunemente reperibili in commercio a prezzo conveniente, ad esempio nei negozi di bricolage. Per creare una piccola pinacoteca personale si possono appendere raggruppati con gusto ottenendo un bell'effetto decorativo. Il supporto per la pittura ha una struttura simil-lino, percepibile alla vista e al tatto, che non migliora soltanto di molto l'aspetto generale del quadro finito, bensì ne sottolinea anche il carattere pittorico suggerendo il desiderato effetto "olio su tela".
La confezione contiene:
Pannello in cartone robusto con struttura simil-lino 24 x 30 cm. Traccia dai contorni precisi con numeri ben leggibili. Colori acrilici a base di acqua (non serve mescolarli tra loro). Pennello sottile. Foglio di controllo e istruzioni dettagliate per un ottimo risultato.
NL
Het motief: "Yorkshirepuppy"
Deze schattige kleine "yorkshireterrier" moet nog groeien, maar zelfs dan behoort hij tot de kleinste honden. Hij is zelfbewust, levendig en intelligent. Ook als oplettende waakhond deinst hij niet voor grotere honden en vreemde mensen terug. Tegen het einde van de 19e eeuw werd hij in het Engelse graafschap Yorkshire gefokt om de steden vrij te houden van ratten en muizen. Iedere hobbyschilder zal dit onweerstaanbare hondje met het grootste plezier portretteren. Het liefst zou je hem willen aaien en in je armen nemen.
Beeldformaat en schildervoorbeeld:
"MEESTERKLASSE Klassieker". Schilderijen in het formaat 24 x 30 cm passen in gebruikelijke wissellijsten, die in bouwmarkten voordelig te krijgen zijn. Voor een kleine schilderijenverzameling kunnen zij fraai worden gegroepeerd en decoratief opgehangen. Het schildervoorbeeld heeft een voel- en zichtbare linnenstructuur. Daardoor wordt het schilderij uiteindelijk niet alleen mooier, maar het geschilderde karakter van de afbeelding wordt onderstreept en het gewenste "olie-op-doek-effect" ondersteund.
Inhoud van de verpakking:
Stevig schilderkarton met linnenstructuur 24 x 30 cm. Exacte contourtekeningen met goed leesbare getallen. Acrylverf op waterbasis in verschillende kleuren. Verf mengen niet nodig. Fijne schilderspenseel. Controleblad en uitvoerige instructies voor succesvol schilderen.

Warning! Not suitable for children under 3 years due to small parts. Choking hazard!
Frequently bought together
Frequently bought together