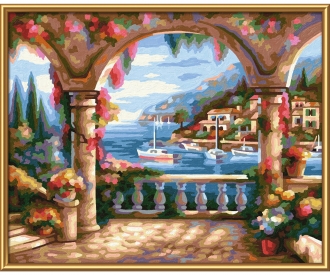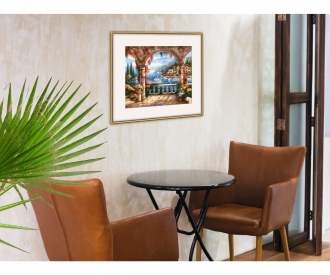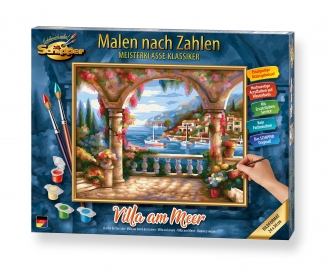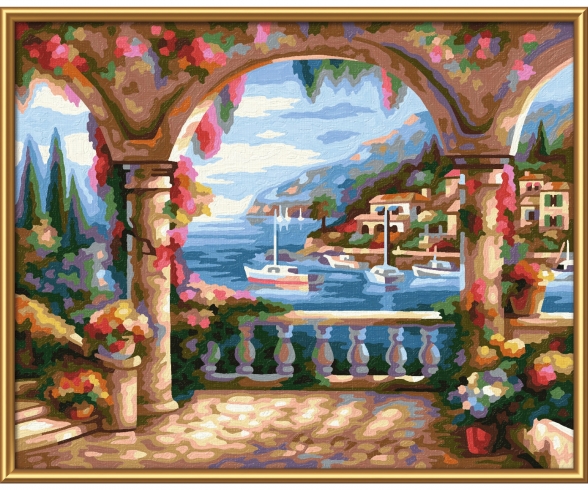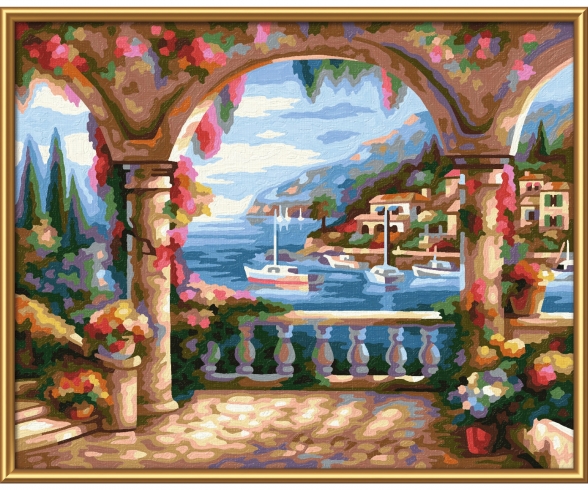 A villa by the sea - painting by numbers
Article number: 609240800
Age recommendation: from 14 years
Quantity:
1
2
3
4
5
6
7
8
9
10
11
12
13
14
15
16
17
18
19
20
21
22
23
24
25
26
27
28
29
30
Delivery time 1-3 working days within Germany
The motif: A villa by the sea
What a nostalgic place by the sea. Looking over the terrace of a grand mansion, the pillars of which are entwined with plants in full flower, the view onto the steep coast line of the Italian Adriatic Sea is simply magnificent. In the bay on the opposite side, the houses of a small town nestle along the rocky coast. There are sailing boats lying at anchor in the harbor. The shadowy terrace with its Mediterranean flair is a perfect place for daydreams. The intermezzo of light and shadow and the diversity of the colors are pure inspiration for the hobby painter and invite – even the viewer of the painting – to stay for a little while.
50 years of PAINTING BY NUMBERS by "SCHIPPER" (1969-2019)
With its lovely landscapes and flower motifs, the series "MASTER CLASS Classics" reminds us of the time when Painting by Numbers was created in the 1960ies. The motifs themselves have made this new painting technique a success and they have counted among the most favorite motifs of all hobby painters until today. SCHIPPER brings back the motifs from the past under the title "Paint and collect beautiful pictures" in the format as used in the past, i.e. 24 x 30 cm. It is simply fun to color them.
Picture format and painting template:
"MASTERPIECE CLASSICS". These pictures sized 24 x 30 cm go with all reasonably priced clip-on picture frames available in building centers. For a small picture gallery, they can be nicely grouped and hung up in a decorative way. The painting templates have a visible and palpable canvas structure. Due to this feature, the finished painting's appearance is not only essentially enhanced but it also emphasizes the artistic character of the paintings by supporting the desired oil "on canvas effect".
Contents of the box:
Rigid painting cardboard with canvas structure finish, size 24 x 30 cm. Precise pre-printed contours with well legible numbers. Water-based acrylic paints. Ready-to-paint pre-mixed colors. Brush with fine tip. Control template and detailed instructions for successful results.
..........................
I
Il soggetto: Villa sul mare
Un luogo in riva al mare che risveglia desiderio e nostalgia. Dal terrazzo di una villa signorile, dalle cui colonne profumano viluppi di piante in fiore, si gode una splendida vista sulla ripida costa italiana dell'Adriatico. Sull'altro lato della baia le casette di un piccolo villaggio si abbarbicano strette al pendio roccioso, mentre nel porticciolo le barche a vela cullano placide all'ancora. La terrazza ombreggiata che traspira un'atmosfera mediterranea è il posto perfetto per sognare: il gioco di luci e ombre, così come la varietà di colori, sono pura ispirazione per il pittore per hobby e, anche soltanto contemplando il quadro, invitano a soffermarsi per qualche attimo.
50 anni di DIPINGERE CON I NUMERI di "SCHIPPER" (1969-2019)
Con i suoi ameni soggetti paesaggistici e floreali la collezione CAPOLAVORI classici ricorda gli inizi del "Dipingere con i numeri" negli anni '60. Si tratta di soggetti che hanno fatto il successo di questa nuova tecnica pittorica e sono ancor oggi tra i temi più amati degli artisti per hobby. Sotto il titolo "Dipingere e collezionare bei quadri" SCHIPPER propone scene dal tocco retrò nel formato allora consueto 24 x 30 cm: sarà semplicemente un piacere dipingerle!
Misura del q'uadro e supporto per la pittura:
"MEISTERKLASSE i Classici". Per i dipinti in formato 24 x 30 cm si possono usare le cornici a giorno comunemente reperibili in commercio a prezzo conveniente, ad esempio nei negozi di bricolage. Per creare una piccola pinacoteca personale si possono appendere raggruppati con gusto ottenendo un bell'effetto decorativo. Il supporto per la pittura ha una struttura simil-lino, percepibile alla vista e al tatto, che non migliora soltanto di molto l'aspetto generale del quadro finito, bensì ne sottolinea anche il carattere pittorico suggerendo il desiderato effetto "olio su tela".
La confezione contiene:
Pannello in cartone robusto con struttura simil-lino 24 x 30 cm. Traccia dai contorni precisi con numeri ben leggibili. Colori acrilici a base di acqua (non serve mescolarli tra loro). Pennello sottile. Foglio di controllo e istruzioni dettagliate per un ottimo risultato.
....................................
NL
Het motief: Villa am Meer
Een plek van verlangen aan zee. Het terras van een deftige villa met zuilen die door bloeiende planten worden omrankt, biedt een prachtig uitzicht op de steile kust van de Adriatische Zee in Italië. In de baai aan de overkant vlijen de huizen van een dorpje zich tegen de rotskust. In de haven liggen zeilboten voor anker. Het schaduwrijke terras met zijn zuidelijke sfeer is een perfecte plek om te dromen. Het wisselen van licht en schaduw en de grote verscheidenheid aan kleuren zijn inspiratie voor de hobbyschilder en noden tot blijven - ook bij het bekijken van het schilderij.
50 jaar SCHILDEREN OP NUMMERS van "SCHIPPER" (1969-2019)
De serie MEESTERKLASSE klassiekers herinnert met lieflijke landschaps- en bloemenmotieven aan de beginperiode van "Schilderen op nummers" in de jaren zestig van de vorige eeuw. Het zijn motieven die deze schildertechniek tot een succes hebben gemaakt en zij behoren ook nu nog bij alle hobbyschilders tot de populairste schilderonderwerpen. Onder de titel "Mooie schilderijen maken en verzamelen" brengt SCHIPPER retromotieven in het destijds gebruikelijke formaat 24 x 30 cm uit, die gewoon leuk zijn om te schilderen.
Beeldformaat en schildervoorbeeld:
"MEESTERKLASSE Klassieker". Schilderijen in het formaat 24 x 30 cm passen in gebruikelijke wissellijsten, die in bouwmarkten voordelig te krijgen zijn. Voor een kleine schilderijenverzameling kunnen zij fraai worden gegroepeerd en decoratief opgehangen. Het schildervoorbeeld heeft een voel- en zichtbare linnenstructuur. Daardoor wordt het schilderij uiteindelijk niet alleen mooier, maar het geschilderde karakter van de afbeelding wordt onderstreept en het gewenste "olie-op-doek-effect" ondersteund.
Inhoud van de verpakking:
Stevig schilderkarton met linnenstructuur 24 x 30 cm. Exacte contourtekeningen met goed leesbare getallen. Acrylverf op waterbasis in verschillende kleuren. Verf mengen niet nodig. Fijne schilderspenseel. Controleblad en uitvoerige instructies voor succesvol schilderen.

Warning! Not suitable for children under 3 years due to small parts. Choking hazard!
Frequently bought together
Frequently bought together