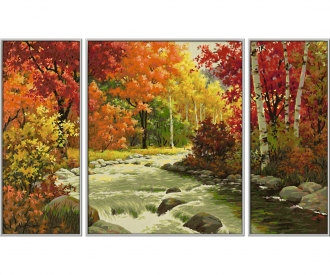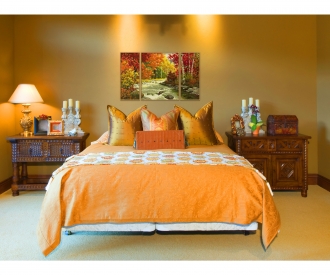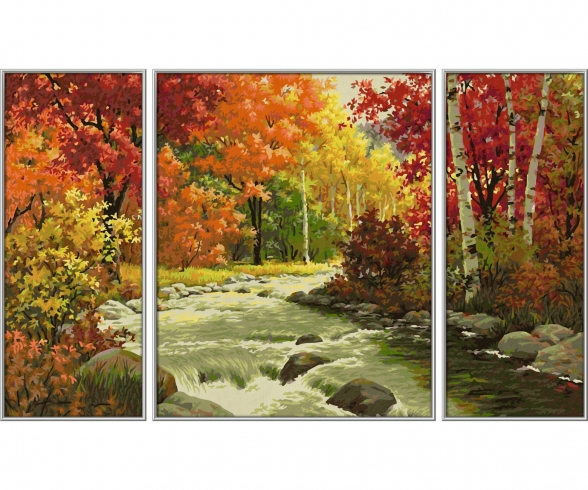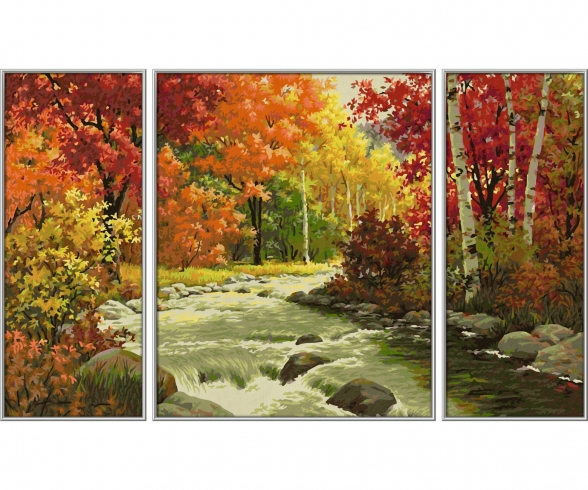 At the Riverside - painting by numbers
Article number: 609260779
Age recommendation: from 14 years
Quantity:
1
2
3
4
5
6
7
8
9
10
11
12
13
14
15
16
17
18
19
20
21
22
23
24
25
26
27
28
29
30
Delivery time 1-3 working days within Germany
Product information
The motif: "At the Riverside"
Autumn colors foliage and leaves and the last warm rays of sunlight bring Indian Summer into our local forests and make them shine in all imaginable hues and shades of color from yellow over orange to a brilliant red. This motif is quite an idyll and invites you to linger for a while at the burbling creek. A last hike, a nice picnic on the shore, facing the sun, this is how the hobby painter will enjoy the warmth of autumn and invite it into his home.
The Picture format and painting template:
"MASTERPIECE Triptych". A triptych is a picture composed of three individual paintings. The picture in the center is sized 40 x 50 cm, the pictures on the left and right side are sized 20 x 50 cm. The painting templates have a visible and palpable canvas structure. Due to this feature, the finished painting's appearance is not only essentially enhanced but it also emphasizes the artistic character of the paintings by supporting the desired "oil on canvas" effect. Hint: SCHIPPER Arts & Crafts has matching aluminum frames on offer for this format. Please go to our menu bar "Frame Service".
Contents of the box:
3 rigid painting cardboards with canvas structure finish. Picture in the center measures 40 x 50 cm, pictures on both sides measure 20 x 50 cm each. Precise pre-printed contours with well legible numbers. Water-based acrylic paints. Ready-to-paint pre-mixed colors. Brush with fine tip. Control template and detailed instructions for successful results.
..............................
I
Il soggetto: "Scorcio boschivo con torrente"
L'autunno tinge le foglie di mille colori e gli ultimi raggi caldi del sole fanno risplendere il bosco in tutte sfumature cromatiche immaginabili, dal giallo e l'arancio fino al rosso intenso. Un soggetto idillico che invita a soffermarsi sulle sponde del torrente gorgogliante: un'ultima passeggiata, un piccolo picnic sulle rive, il viso proteso verso il sole… è così che il pittore per hobby si gode il tepore dell'autunno e lo imprigiona nelle sue quattro mura..
La Misura del quadro e supporto per la pittura:
"MEISTERKLASSE Trittico". Un trittico è un quadro suddiviso in tre parti. Il pannello centrale misura 40 x 50 cm, quelli laterali rispettivamente 20 x 50 cm. Il supporto per la pittura ha una struttura simil-lino, percepibile alla vista e al tatto, che non migliora soltanto di molto l'aspetto generale del quadro finito, bensì ne sottolinea anche il carattere pittorico suggerendo il desiderato effetto "olio su tela". Nota bene: la SCHIPPER Arts & Crafts dispone di cornici in alluminio adatte a questo formato. Vedi menu al punto "Servizio cornici".
La confezione contiene:
3 pannelli in cartone robusto con struttura simil-lino. Pannello centrale 40 x 50 cm. Pannelli laterali 20 x 50 cm ciascuno. Traccia dai contorni precisi con numeri ben leggibili. Colori acrilici a base di acqua (non serve mescolarli tra loro). Pennello sottile. Foglio di controllo e istruzioni dettagliate per un ottimo risultato.
..............................
NL
Het motief: "Rivierlandschap"
De herfst kleurt de bladeren en door de laatste warme zonnestralen lichten de bossen bij ons in alle denkbare kleurschakeringen op, van geel via oranje tot felrood. Idyllisch doet dit motief aan, en het noodt tot een rustpauze aan de kabbelende beek. Een laatste wandeling, een kleine picknick aan de oever, het gezicht naar de zon toe, zo geniet de hobbyschilder van de herfstwarmte en haalt deze in huis.
Beeldformaat en schildervoorbeeld:
"MEESTERKLASSE drieluik". Een drieluik is een in drieën verdeelde afbeelding. Het middelste schilderij heeft het formaat 40 x 50 cm, de twee schilderijen links en rechts elk 20 x 50 cm. De schildervoorbeelden hebben een voel- en zichtbare linnenstructuur. Daardoor wordt het schilderij uiteindelijk niet alleen mooier, maar wordt ook het geschilderde karakter van de afbeeldingen onderstreept en het gewenste "olie-op-doek-effect" ondersteund. N.B.: SCHIPPER Arts & Crafts heeft voor dit beeldformaat passende aluminium lijsten in het assortiment. Zie menubalk "schilderijlijst-service".
Inhoud van de verpakking:
3 stukken stevig schilderkarton met linnenstructuur. Middenafbeelding 40 x 50 cm Zijafbeeldingen elk 20 x 50 cm. Exacte contourtekeningen met goed leesbare getallen. Acrylverf op waterbasis in verschillende kleuren. Verf mengen niet nodig. Fijne schilderspenseel. Controleblad en uitvoerige instructies voor succesvol schilderen.

Warning! Not suitable for children under 3 years due to small parts. Choking hazard!
Frequently bought together
Frequently bought together