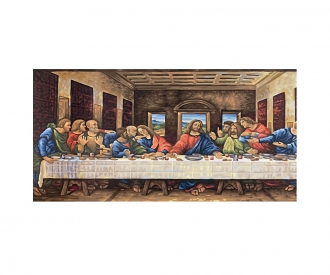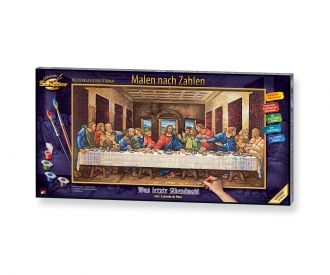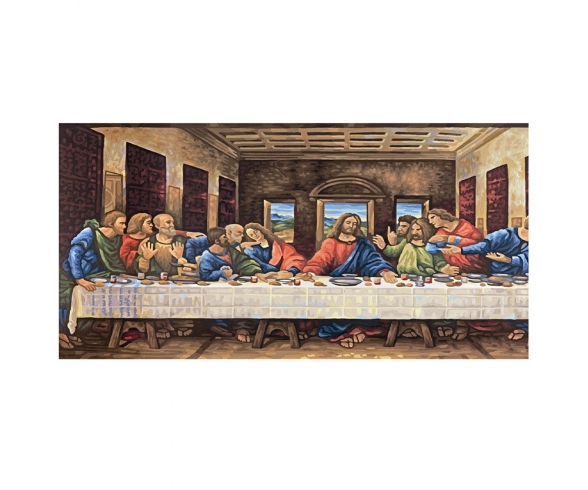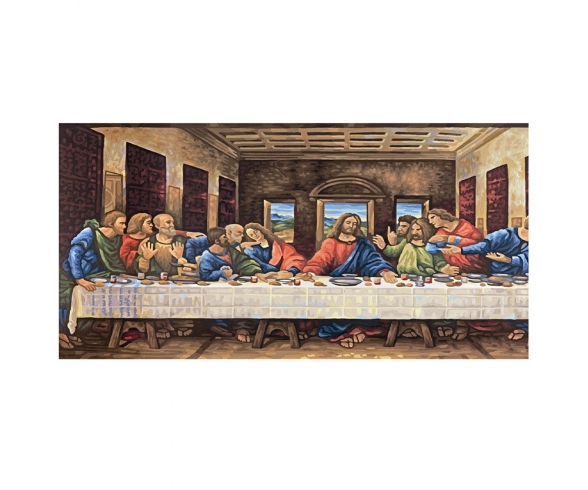 Quantity:
1
2
3
4
5
6
7
8
9
10
11
12
13
14
15
16
17
18
19
20
21
22
23
24
25
26
27
28
29
30
in stock, Delivery time 1-3 working days within Germany
Museum Selection - "Painting starts where words end…"
With a high degree of competence and thoroughness, SCHIPPER Arts & Crafts converted all motifs of the "Renowned Painters" series into the Painting by Numbers technique. It is a highlight for every hobby painter to repaint and recreate these precious originals.
The motif: "The Last Supper"
Between 1494 and 1498, Leonardo da Vinci (1427-1504) created one of the most famous paintings in the world. "The Last Supper" is a wall painting in the dining hall of the Dominican monastery of the church "Santa Maria delle Grazie" at Milano. It measures 422 x 904 cm, a mysterious piece of art that gave rise to many a speculation in the past few years.
Picture format and painting template:
"MASTERPIECE Wide Format" 40 x 80 cm. These pictures in wide format have a great effect. They are decorative and emphasize the current lifestyle. The painting templates have a visible and palpable canvas structure. Due to this feature, the finished painting's appearance is not only essentially enhanced but it also emphasizes the artistic character of the paintings by supporting the desired "oil on canvas" effect. Hint: SCHIPPER Arts & Crafts has matching aluminum frames on offer for this format. Please go to our menu bar "Frame Service".
Contents of the box:
Rigid painting cardboard with canvas structure finish, size 40 x 80 cm. Precise pre-printed contours with well legible numbers. Water-based acrylic paints. Ready-to-paint pre-mixed colors. Brush with fine tip. Control template and detailed instructions for successful results.
..............................
I
Collezione museo - "La pittura inizia dove finiscono le parole...."
Tutti i soggetti della serie "Pittori famosi" di SCHIPPER Arts & Crafts sono stati trasposti con grande abilità e cura tramite la tecnica di pittura per numeri. Per ogni pittore dilettante è una splendida esperienza poter dipingere questi preziosi originali ricreandone il processo di esecuzione.
Il soggetto: "L'ultima cena"
Leonardo da Vinci (1427-1504) creò tra il 1494 e il 1498 uno dei dipinti più famosi del mondo. "L'ultima cena" è un affresco conservato nel refettorio del convento dei Domenicani della chiesa di Santa Maria delle Grazie a Milano. È lungo 904 cm e alto 422 cm. Si tratta di un'opera misteriosa che, in particolare negli ultimi anni, ha dato luogo a varie speculazioni in merito al soggetto.
Misura del quadro e supporto per la pittura:
"MEISTERKLASSE Formato largo" 40 x 80 cm. I quadri di grande formato sono decorativi, di effetto e danno rilievo al design abitativo attuale. Il supporto per la pittura ha una struttura simil-lino, percepibile alla vista e al tatto, che non migliora soltanto di molto l'aspetto generale del quadro finito, bensì ne sottolinea anche il carattere pittorico suggerendo il desiderato effetto "olio su tela". Nota bene: la SCHIPPER Arts & Crafts dispone di cornici in alluminio adatte a questo formato. Vedi menu al punto "Servizio cornici".
La confezione contiene:
Pannello in cartone robusto con struttura simil-lino 40 x 80 cm. Traccia dai contorni precisi con numeri ben leggibili. Colori acrilici a base di acqua (non serve mescolarli tra loro). Pennello sottile. Foglio di controllo e istruzioni dettagliate per un ottimo risultato.
..............................
NL
Museumcollectie - " Schilderkunst begint, waar woorden tekortschieten...."
Alle motieven van de serie "Beroemde schilders" zijn door SCHIPPER Arts & Crafts met grote vakkundigheid en zorg omgezet in de schilderen-op-nummer-techniek. Voor iedere hobbyschilder een hoogtepunt, om deze kostbare originelen na te schilderen en het ontstaan ervan na te voelen.
Het motief: "Het Laatste Avondmaal"
Leonardo da Vinci (1427-1504) heeft tussen 1494 en 1498 een van der beroemdste schilderijen ter wereld gecreëerd. "Het laatste avondmaal" is een wandschildering in de refter van het dominicanerklooster van de kerk Santa Maria delle Grazie in Milaan. Het heeft een omvang van 422 x 904 cm. Een raadselachtig werk, dat vooral de laatste jaren aanleiding heeft gegeven tot velerlei speculaties.
Beeldformaat en schildervoorbeeld:
"MEESTERKLASSE landschapsformaat" 40 x 80 cm. Groot formaat schilderijen zijn indrukwekkend en decoratief en accentueren hedendaags woondesign. Het schildervoorbeeld heeft een voel- en zichtbare linnenstructuur. Daardoor wordt het schilderij uiteindelijk niet alleen mooier, maar wordt ook het geschilderde karakter van de afbeelding onderstreept en het gewenste "olie-op-doek-effect" ondersteund. N.B.: SCHIPPER Arts & Crafts heeft voor dit beeldformaat passende aluminium lijsten in het assortiment. Zie menubalk "schilderijlijst-service".
Inhoud van de verpakking:
Stevig schilderkarton met linnenstructuur 40 x 80 cm. Exacte contourtekeningen met goed leesbare getallen. Acrylverf op waterbasis in verschillende kleuren. Verf mengen niet nodig. Fijne schilderspenseel. Controleblad en uitvoerige instructies voor succesvol schilderen.

Warning! Not suitable for children under 3 years due to small parts. Choking hazard!
Frequently bought together
Frequently bought together