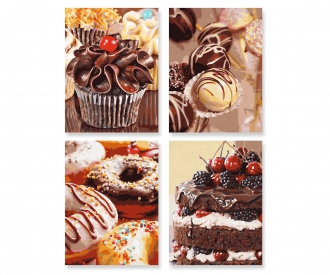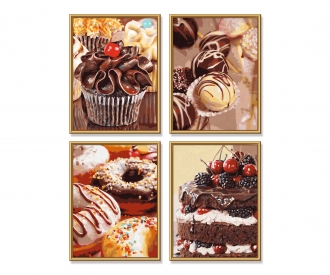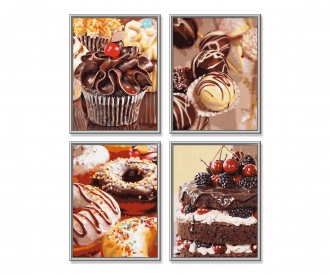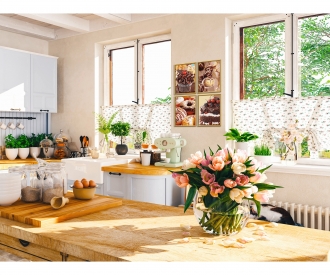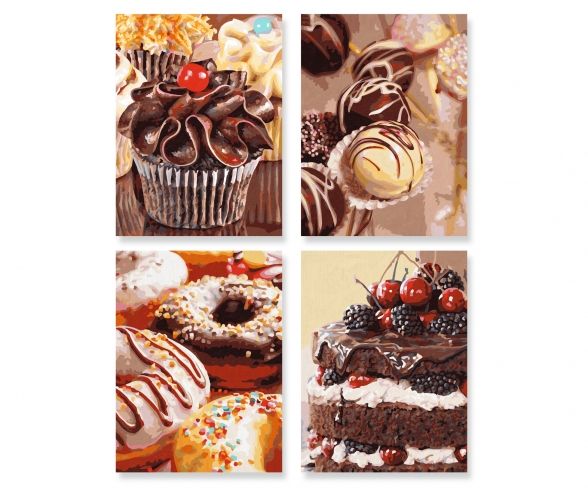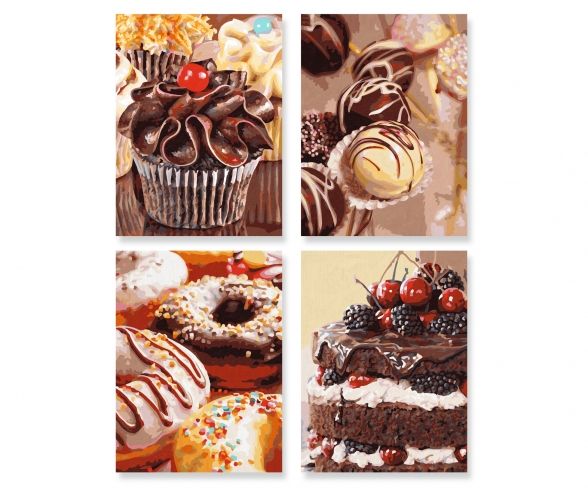 Quantity:
1
2
3
4
5
6
7
8
9
10
11
12
13
14
15
16
17
18
19
20
21
22
23
24
25
26
27
28
29
30
in stock, Delivery time 1-3 working days within Germany
The motif: "Sweet temptations"
The sight of those sweet temptations with their fantastic decorations made from artificially draped chocolate ribbons, light and dark icings with colorful hundreds and thousands, berries and cherries that are sweet with the scent of summer will seduce both hobby painters already when they paint and viewers when they look at them. The four pictures called "Sweet temptations" with Cake Pops, Donuts, Cupcakes and Naked Cakes is a harmonious composition of a trendy bakery that should not be missing in any home.
...................................................................................................
I
Il soggetto: "Dolci tentazioni"
Le dolci tentazioni attirano con fantastici decori fatti di nastri di cioccolato drappeggiati ad arte, glasse chiare e scure cosparse di mompariglia colorata, bacche che profumano d′estate e gustose ciliegie: un ben di dio che va venire l′acquolina in bocca non solo al pittore per hobby mentre lavora, bensì anche a chi si troverà di fronte all′opera finita. Il Quattro ″Dolci tentazioni″ con cake pop, donuts, cupcake e naked cake è un′armonica composizione di cultura pasticcera trendy che non può mancare in nessuna casa!
La Misura del quadro e supporto per la pittura:
"Meisterklasse QUATTRO" è la nuova serie della SCHIPPER Arts & Crafts. 4 dipinti in formato 18 x 24 cm. Il supporto per la pittura ha una struttura simil-lino, percepibile alla vista e al tatto, che non migliora soltanto di molto l'aspetto generale del quadro finito, bensì ne sottolinea anche il carattere pittorico suggerendo il desiderato effetto "olio su tela". Nota bene: la SCHIPPER Arts & Crafts dispone di cornici in alluminio adatte a questo formato. Vedi menu al punto "Servizio cornici".
La confezione contiene:
4 pannelli 18 x 24 cm in cartone robusto con struttura simil-lino. Traccia dai contorni precisi con numeri ben leggibili. Colori acrilici a base di acqua (non serve mescolarli tra loro). Pennello sottile. Foglio di controllo e istruzioni dettagliate per un ottimo risultato.
...................................................................................................
NL
Het motief: " Zoete verleidingen"
De zoete verleidingen zijn verlokkend met fantastische versieringen van kunstig gedrapeerde chocoladebanden, lichte en donkere glazuur met kleurige taartparels, zomers geurende bessen en smakelijke kersen, waarbij de hobbyschilder al tijdens het schilderen, maar ook de toeschouwer het water in de mond loopt. De quattro "Zoete verleidingen" met cake pops, donuts, cupcakes en naked cakes is een harmonische compositie van trendy bakcultuur, die in geen enkel huis mag ontbreken.
Beeldformaat en schildervoorbeeld:
"Meesterklasse QUATTRO" is de nieuwe serie afbeeldingen van SCHIPPER Arts & Crafts. 4 afbeeldingen in het formaat 18 x 24 cm. De schildervoorbeelden hebben een voel- en zichtbare linnenstructuur. Daardoor wordt het schilderij uiteindelijk niet alleen mooier, maar wordt ook het geschilderde karakter van de afbeeldingen onderstreept en het gewenste "olie-op-doek-effect" ondersteund. N.B.: SCHIPPER Arts & Crafts heeft voor dit beeldformaat passende aluminium lijsten in het assortiment. Zie menubalk "schilderijlijst-service".
Inhoud van de verpakking:
4 stukken stevig schilderkarton 18 x 24 cm met linnenstructuur. Exacte contourtekeningen met goed leesbare getallen. Acrylverf op waterbasis in verschillende kleuren. Verf mengen niet nodig. Fijne schilderspenseel. Controleblad en uitvoerige instructies voor succesvol schilderen.

Warning! Not suitable for children under 3 years due to small parts. Choking hazard!
Frequently bought together
Frequently bought together