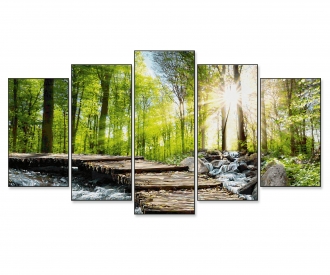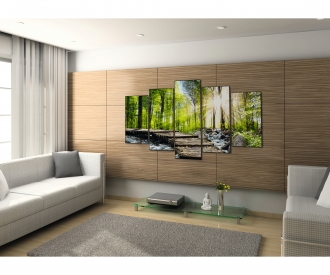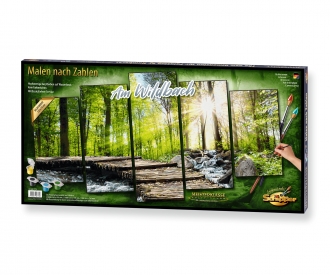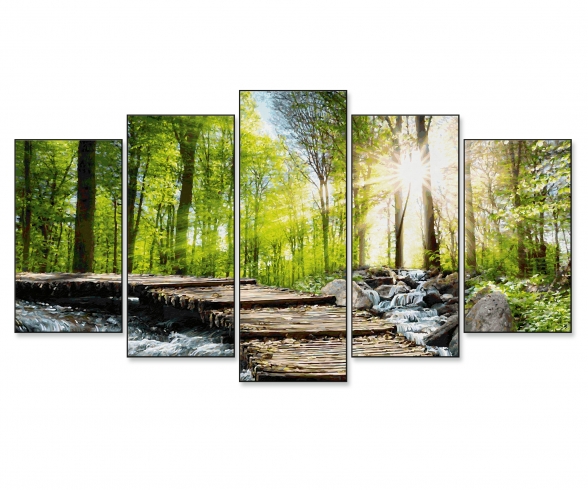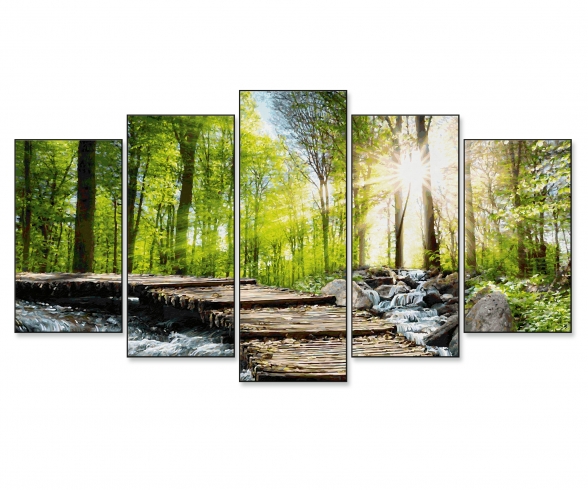 By the torrent - painting by numbers
Article number: 609450774
Age recommendation: from 14 years
Quantity:
1
2
3
4
5
6
7
8
9
10
11
12
13
14
15
16
17
18
19
20
21
22
23
24
25
26
27
28
29
30
Delivery time 1-3 working days within Germany
The motif:
The viewer is quite impressed by the size of the polyptych painting (in 5 parts) and the beauty of the scenery called "By the torrent". The displayed landscape touches the soul in the colors of a summer day. The sun is blinking through the trees and shining brightly onto a boardwalk that harmoniously interconnects all 5 parts of the painting. Even the burbling sound of the torrent will make itself heard when the hobby painter starts painting to conjure up a painting that will invite an atmosphere imparting restoration and relaxation into the living room time and again.
Picture format and painting template:
"Masterclass POLYPTYCH – Professional Edition" is a new product line by SCHIPPER Arts & Crafts. The five paintings cover an area of approx. 132x72 cm. The large format is effective, decorative and enhances a modern style of living. The templates have a palpable and visible canvas structure which does not only result in an essentially improved visual impact of the finished painting but which also emphasizes the paintings' character and supports the desired "oil on canvas effect". An assembly instruction for 5 picture carriers is enclosed in the package by means of which the polyptych can be framed and hung up appropriately with very little effort and at a reasonable price.
Contents of the box:
5 rigid painting cardboards: 2 templates 263 x 476 mm, 2 templates 263 x 598 mm, 1 template 263 x 720 mm with canvas structure finish. Precise contours with well legible numbers. Water-based acrylic colors. Ready-to-paint pre-mixed colors. Brush with fine tip. Control template and detailed instructions for successful painting. Assembly instruction for 5 frameless picture carriers is enclosed in the package.
..............................
I
Il soggetto:
Ciò che colpisce l'osservatore del polittico a 5 scomparti "Al torrente" sono le dimensioni del quadro e la bellezza della scena raffigurata: uno squarcio di paesaggio che tocca l'anima, immerso nei colori di una bella giornata estiva. Il sole fa capolino tra gli alberi e i suoi raggi si posano sul ponticello di legno che, nel contempo, fa da armonico trait d'union tra le 5 tavole. Parrà perfino di sentire lo scrosciare del torrente, quando il pittore per hobby si metterà al lavoro e, come per magia, farà pian piano apparire un quadro che, a ogni sguardo, regalerà al salotto un'atmosfera distensiva e rilassante.
Misura del quadro e supporto per la pittura:
"Meisterklasse POLITTICO – Edizione professionale" è una nuova serie di prodotti della SCHIPPER Arts & Crafts. Da appesi i 5 elementi coprono una superficie di ca. 132 x 72 cm. Il formato grande è estremamente decorativo, di grand'effetto e dà rilievo al design abitativo attuale. I supporti per la pittura hanno una struttura simil-lino, percepibile alla vista e al tatto, che non migliora soltanto di molto l'aspetto generale dell'opera finita, bensì ne sottolinea anche il carattere pittorico suggerendo il desiderato effetto "olio su tela". Ogni confezione è corredata delle istruzioni di montaggio per 5 pannelli, attenendosi alle quali il polittico può essere montato e appeso in modo consono al suo stile senza grandi spese e dispendio di tempo.
La confezione contiene:
5 pannelli in cartone robusto con struttura simil-lino: 2 elementi da 263 x 476 mm, 2 elementi da 263 x 598 mm, 1 elemento da 263 x 720 mm. Traccia dai contorni precisi con numeri ben leggibili. Colori acrilici a base di acqua (non serve mescolarli tra loro). Pennello sottile. Foglio di controllo e istruzioni dettagliate per un ottimo risultato. Istruzioni di montaggio per 5 pannelli senza cornice.
..............................
NL
Het motief:
Het formaat van de afbeelding, maar ook de schoonheid van het landschap maakt indruk op de toeschouwer van het vijfdelige veelluik "Aan de bergbeek". Wat wij zien is een landschap in de kleuren van een zomerdag, dat de ziel raakt. Het zonlicht valt door de bomen en schijnt op het houten bruggetje, dat alle vijf schilderijen harmonisch met elkaar verbindt. Zelfs het ruisen van de bergbeek wordt hoorbaar als de hobbyschilder zich aan het werk zet en een schilderij tovert dat telkens opnieuw een rustgevende en ontspannen sfeer in de huiskamer schept.
Het beeldformaat en schildervoorbeeld:
"Meesterklasse VEELLUIK – Professionele editie" is een nieuwe productserie van SCHIPPER Arts & Crafts. De vijf schilderijen bedekken een muuroppervlak van ca. 132 x 72 cm. Het grote formaat is indrukwekkend en decoratief en het onderstreept modern woondesign. De schildervoorbeelden hebben een voel- en zichtbare linnenstructuur. Daardoor wordt het schilderij uiteindelijk niet alleen mooier, maar het geschilderde karakter van de afbeeldingen wordt onderstreept en het gewenste "olie-op-doek-effect" ondersteund. Montage-instructies voor 5 beelddragers zijn bij elke verpakking gevoegd. Daarmee kan het veelluik met slechts weinig kosten en moeite in stijl worden ingelijst en opgehangen.
De inhoud van de verpakking:
5 stevige schilderkartons: 2 voorbeelden 263 x 476 mm, 2 voorbeelden 263 x 598 mm, 1 voorbeeld 263 x 720 mm met linnenstructuur. Exacte contourtekeningen met goed leesbare getallen. Acrylverf op waterbasis. Verf mengen niet nodig. Fijne schilderpenseel. Controleblad en uitvoerige instructies voor succesvol schilderen. Bouwinstructies voor 5 lijstloze beelddragers.

Warning! Not suitable for children under 3 years due to small parts. Choking hazard!
Frequently bought together
Frequently bought together