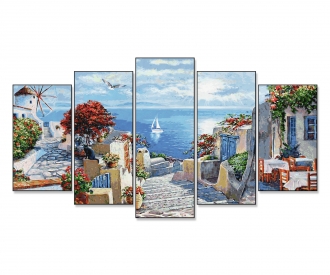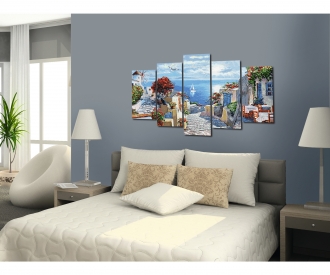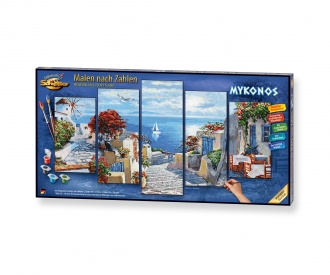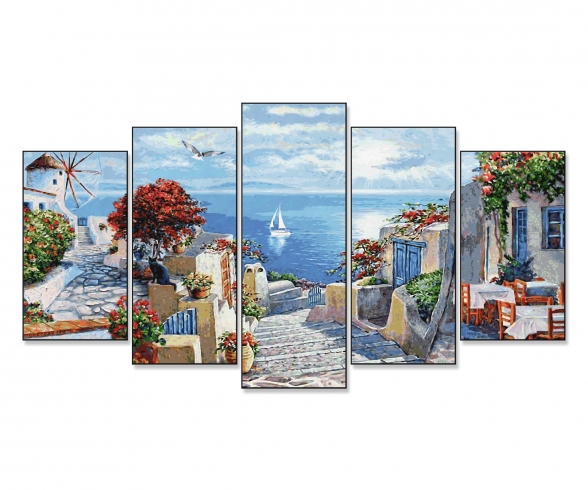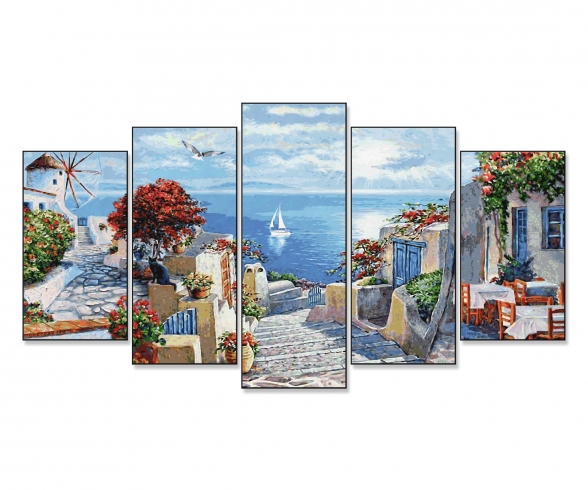 Quantity:
1
2
3
4
5
6
7
8
9
10
11
12
13
14
15
16
17
in stock, Delivery time 1-3 working days within Germany
Mykonos
The houses shining in white, embellished by the azure blue of their doors and window shutters huddle against the steep slopes of this Greek island. Our longing view wanders from a typical Greek wind-mill over the magnificent blue sea where a sailing ship glides along. A cozy tavern, framed by lush plants in full bloom, invites you to sit down on a wooden chair at one of the small tables to enjoy a glass of wine and some delicious "Mezedes". The polyptych "Mykonos" doesn't only make the hearts of all fans of Greece beat a little faster but every viewer will find himself surrounded by a relaxed holiday atmosphere.
Picture format and painting template:
The new series "Master Class POLYPTCH – Professional Edition" by SCHIPPER Arts & Crafts
Originally, a polyptych was a so-called winged altar-piece, the overall motif of which is divided into separate sections. The "Professional Edition's" motif is an artwork of 5 parts and covers a wall space of approx. 132 x 72 cm. This artwork requires the hobby painter's precision and patience when painting. Simultaneously, the demands to the painter's skills are high, even if he is well-versed. However, the result is going to make up for all the efforts taken. The appreciation and admiration of the artwork's stunned viewers will reward the hobby painter. The package includes an assembly instruction for 5 picture carriers.
Contents of the box:
5 rigid painting cardboards: 2 templates 263 x 476 mm, 2 templates 263 x 598 mm, 1 template 263 x 720 mm with canvas structure finish. Precise contours with well legible numbers. Water-based acrylic colors. Ready-to-paint pre-mixed colors. Brush with fine tip. Control template and detailed instructions for successful painting. Assembly instruction for 5 frameless picture carriers is enclosed in the package.
..............................................................................................................
I
Mykonos
Con le loro graziose porte e imposte azzurro intenso le bianche casette si arrampicano sinuose sulle pendici scoscese di quest'isola greca. Da uno dei mulini a vento così tipici per il paese si può lasciar vagheggiare lo sguardo sullo splendido blu del mare dove sfila giust'ora leggera una barca a vela. La tranquilla taverna invita a fermarsi qualche attimo per gustare un bicchiere di vino e deliziosi "mezedes" seduti ai piccoli tavoli su seggioline di legno circondati da piante cariche di fiori. Il polittico "Mykonos" farà battere più forte il cuore di tutti gli amanti della Grecia e trasporterà subito in un'atmosfera di vacanza chiunque lo osservi.
Misura del quadro e supporto per la pittura:
La nuova serie "Capolavori POLITTICO - Professional Edition" di SCHIPPER Arts & Crafts.
In origine per polittico si intendeva una pala d'altare composta da più tavole. Il soggetto della "Professional Edition" è composto da 5 pannelli e, applicato a parete, ricopre una superficie di ca. 132 x 72 cm. La realizzazione del quadro richiede un lavoro preciso e paziente, nel contempo rappresenta una grande sfida perfino per le capacità tecniche del pittore per hobby più esperto. Il risultato ricompensa tuttavia ogni fatica! Infatti l'opera finita, presentata con orgoglio dall'artista per hobby, susciterà le lodi e l'ammirazione dell'osservatore colmo di stupore. Ogni confezione contiene le istruzioni per il montaggio del supporto per 5 quadri.
La confezione contiene:
5 pannelli in cartone robusto con struttura simil-lino: 2 elementi da 263 x 476 mm, 2 elementi da 263 x 598 mm, 1 elemento da 263 x 720 mm. Traccia dai contorni precisi con numeri ben leggibili. Colori acrilici a base di acqua (non serve mescolarli tra loro). Pennello sottile. Foglio di controllo e istruzioni dettagliate per un ottimo risultato. Istruzioni di montaggio per 5 pannelli senza cornice.
..............................................................................................................
NL
Mykonos
Stralend vlijen de witte huizen met hun azuurblauwe deuren en luiken zich tegen de steile hellingen van dit Griekse eiland. Vanaf een van de typische windmolens glijdt de blik verlangend over de prachtig blauwe zee, waar zojuist een zeilschip voorbij vaart. Een gezellige taverne nodigt uit tot een bezoek, waar je aan tafeltjes met houten stoelen naast weelderige bloeiende planten van een glas wijn en heerlijke "mezedes" kunt genieten. Het veelluik "Mykonos" laat niet alleen het hart van alle Griekenland-minnaars sneller kloppen, maar dompelt elke kijker onder in een ontspannen vakantiesfeer
Het beeldformaat en schildervoorbeeld:
De nieuwe serie "Meesterklasse VEELLUIK – Professionele editie" van SCHIPPER Arts & Crafts.
Een veelluik noemde men oorspronkelijk een zogeheten vleugelaltaar met onderverdeelde schilderijen. Het motief van de "Professionele editie" is vijfdelig en bedekt een muuroppervlak van ca. 132 x 72 cm. Het maken van het schilderij vereist nauwkeurig en geduldig schilderen en stelt tegelijkertijd hoge eisen aan de schildervaardigheden van zelfs de ervaren hobbyschilder. Het resultaat is echter ruimschoots de moeite waard. Want het voltooide werk dat de hobbyschilder vol trots presenteert, ontlokt de verbaasde toeschouwer lof en bewondering. Montage-instructies voor 5 beelddragers zijn bij elke verpakking gevoegd.
De inhoud van de verpakking:
5 stevige schilderkartons: 2 voorbeelden 263 x 476 mm, 2 voorbeelden 263 x 598 mm, 1 voorbeeld 263 x 720 mm met linnenstructuur. Exacte contourtekeningen met goed leesbare getallen. Acrylverf op waterbasis. Verf mengen niet nodig. Fijne schilderpenseel. Controleblad en uitvoerige instructies voor succesvol schilderen. Bouwinstructies voor 5 lijstloze beelddragers.

Warning! Not suitable for children under 3 years due to small parts. Choking hazard!
Frequently bought together
Frequently bought together