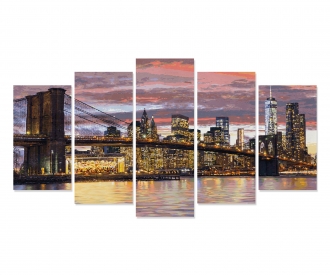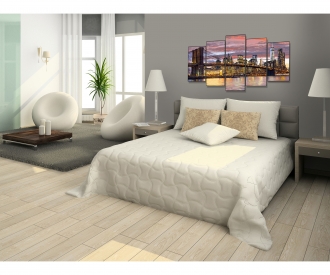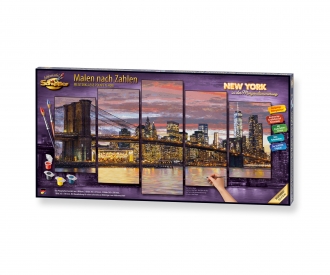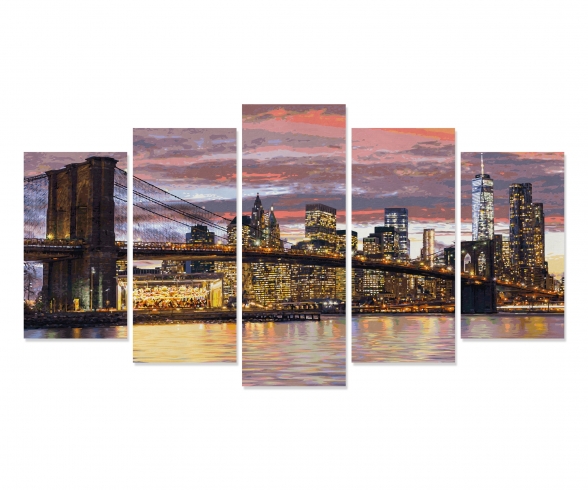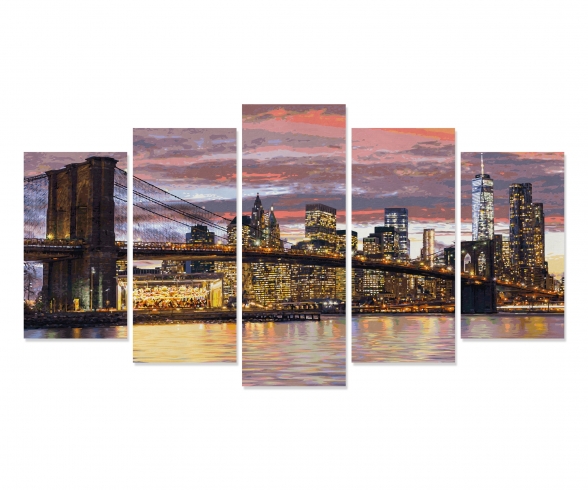 Quantity:
1
2
3
4
5
6
7
8
9
10
11
12
13
14
15
16
17
18
19
20
21
22
23
24
25
26
27
28
29
30
in stock, Delivery time 1-3 working days within Germany
The motif: New York at dawn
The "Big Apple" with all its lights shimmers golden on the banks of the East River at dawn while the skyline of New York City unfolds its particular charme in the early hours of the morning. The colors of sky and water with the impressive Brooklyn Bridge in the front are full of atmosphere and give us a particular impression of this lively metropolis.
Picture format and painting template:
The new series "Master Class POLYPTCH – Professional Edition" by SCHIPPER Arts & Crafts
Originally, a polyptych was a so-called winged altar-piece, the overall motif of which is divided into separate sections. The "Professional Edition's" motif is an artwork of 5 parts and covers a wall space of approx. 132 x 72 cm. This artwork requires the hobby painter's precision and patience when painting. Simultaneously, the demands to the painter's skills are high, even if he is well-versed. However, the result is going to make up for all the efforts taken. The appreciation and admiration of the artwork's stunned viewers will reward the hobby painter. The package includes an assembly instruction for 5 picture carriers.
Contents of the box:
5 rigid painting cardboards: 2 templates 263 x 476 mm, 2 templates 263 x 598 mm, 1 template 263 x 720 mm with canvas structure finish. Precise contours with well legible numbers. Water-based acrylic colors. Ready-to-paint pre-mixed colors. Brush with fine tip. Control template and detailed instructions for successful painting. Assembly instruction for 5 frameless picture carriers is enclosed in the package.
...................................................................................................................................
I
Il soggetto: New York all'alba
Al risveglio mattutino, sulle rive dell'Hudson River, "Big Apple" è tutto uno scintillio di luci dorate. È proprio nelle prime ore del giorno che lo skyline di New York City sprigiona un fascino assolutamente singolare. Il gioco di colori tra cielo e acqua, con l'imponente Brooklyn Bridge in primo piano, regala un'immagine particolarmente suggestiva di questa metropoli vivace e poliedrica.
Misura del quadro e supporto per la pittura:
La nuova serie "Capolavori POLITTICO - Professional Edition" di SCHIPPER Arts & Crafts.
In origine per polittico si intendeva una pala d'altare composta da più tavole. Il soggetto della "Professional Edition" è composto da 5 pannelli e, applicato a parete, ricopre una superficie di ca. 132 x 72 cm. La realizzazione del quadro richiede un lavoro preciso e paziente, nel contempo rappresenta una grande sfida perfino per le capacità tecniche del pittore per hobby più esperto. Il risultato ricompensa tuttavia ogni fatica! Infatti l'opera finita, presentata con orgoglio dall'artista per hobby, susciterà le lodi e l'ammirazione dell'osservatore colmo di stupore. Ogni confezione contiene le istruzioni per il montaggio del supporto per 5 quadri.
La confezione contiene:
5 pannelli in cartone robusto con struttura simil-lino: 2 elementi da 263 x 476 mm, 2 elementi da 263 x 598 mm, 1 elemento da 263 x 720 mm. Traccia dai contorni precisi con numeri ben leggibili. Colori acrilici a base di acqua (non serve mescolarli tra loro). Pennello sottile. Foglio di controllo e istruzioni dettagliate per un ottimo risultato. Istruzioni di montaggio per 5 pannelli senza cornice.
...................................................................................................................................
NL
Het motief: New York in de ochtendschemering
Goudkleurig glinsteren de lichten van "Big Apple" aan de oever van de East River in de ochtend. De skyline van New York City ontvouwt vooral in de vroege ochtenduren haar bijzondere charme. Het kleurenspel van lucht en water en ook van de imposante Brooklyn Bridge op de voorgrond zorgen voor een bijzonder stemmig beeld van deze bruisende metropool.
Het beeldformaat en schildervoorbeeld:
De nieuwe serie "Meesterklasse VEELLUIK – Professionele editie" van SCHIPPER Arts & Crafts.
Een veelluik noemde men oorspronkelijk een zogeheten vleugelaltaar met onderverdeelde schilderijen. Het motief van de "Professionele editie" is vijfdelig en bedekt een muuroppervlak van ca. 132 x 72 cm. Het maken van het schilderij vereist nauwkeurig en geduldig schilderen en stelt tegelijkertijd hoge eisen aan de schildervaardigheden van zelfs de ervaren hobbyschilder. Het resultaat is echter ruimschoots de moeite waard. Want het voltooide werk dat de hobbyschilder vol trots presenteert, ontlokt de verbaasde toeschouwer lof en bewondering. Montage-instructies voor 5 beelddragers zijn bij elke verpakking gevoegd.
De inhoud van de verpakking:
5 stevige schilderkartons: 2 voorbeelden 263 x 476 mm, 2 voorbeelden 263 x 598 mm, 1 voorbeeld 263 x 720 mm met linnenstructuur. Exacte contourtekeningen met goed leesbare getallen. Acrylverf op waterbasis. Verf mengen niet nodig. Fijne schilderpenseel. Controleblad en uitvoerige instructies voor succesvol schilderen. Bouwinstructies voor 5 lijstloze beelddragers.

Warning! Not suitable for children under 3 years due to small parts. Choking hazard!
Frequently bought together
Frequently bought together