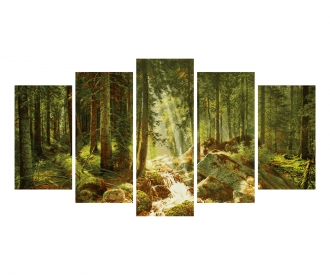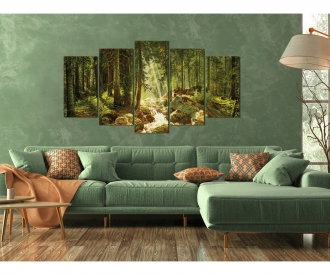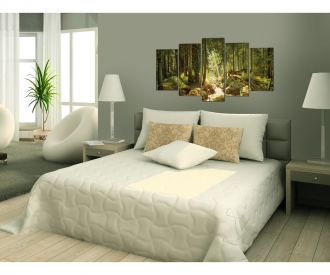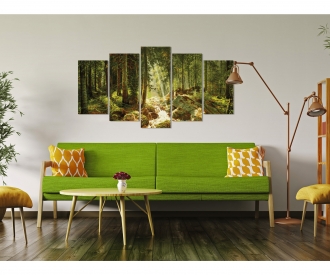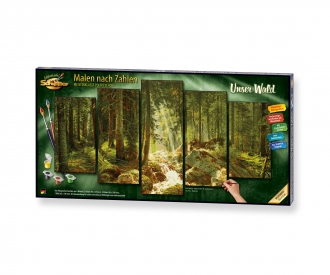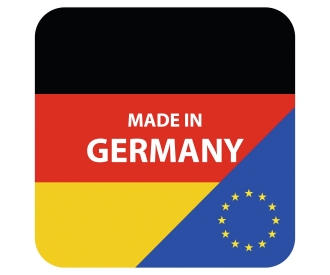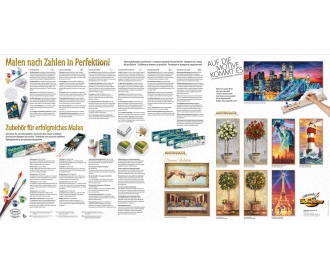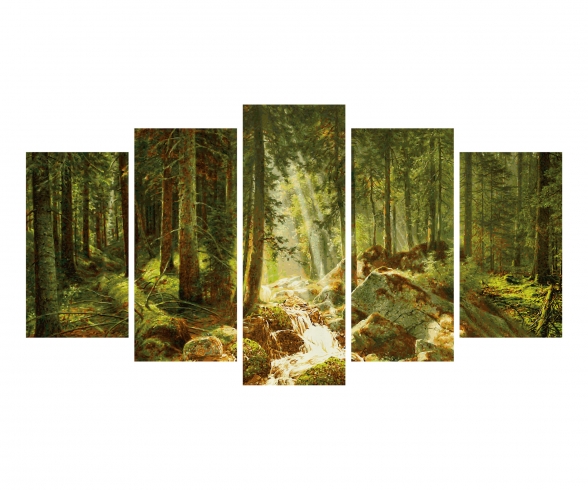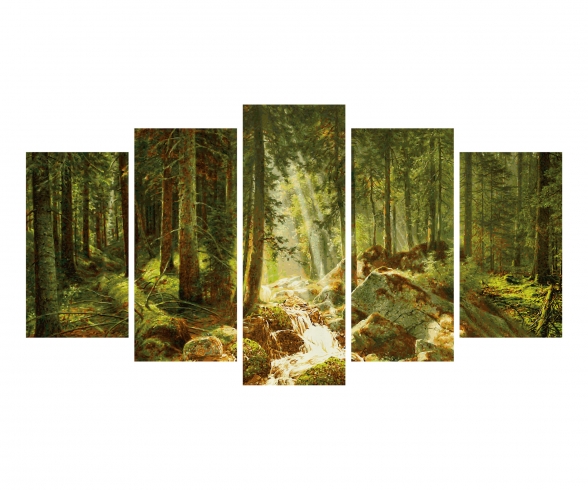 only 3 pieces left in stock, Delivery time 1-3 working days within Germany
Our forests
Forests are habitat for numerous animals and plants. They are vitally important for men and animals alike. Forests, our "Green Lungs", are indispensable for they purify the air and replenish it with oxygen. Unfortunately, our woods are imminently at stake due to the climate change. The painting's motif displays the stunning beauty of a natural forest with beams of sunlight shining through and a creek, surrounded by bits of rock, in its center. The shadows and the colors of this unique polyptych are a particular treat and challenge for the hobby painter and at the same time it is a call for help to save our woods.
Picture format and painting template:
The new series "Master Class POLYPTCH – Professional Edition" by SCHIPPER
Originally, a polyptych was a so-called winged altar-piece, the overall motif of which is divided into separate sections. The "Professional Edition's" motif is an artwork of 5 parts and covers a wall space of approx. 132 x 72 cm. This artwork requires the hobby painter's precision and patience when painting. Simultaneously, the demands to the painter's skills are high, even if he is well-versed. However, the result is going to make up for all the efforts taken. The appreciation and admiration of the artwork's stunned viewers will reward the hobby painter. The package includes an assembly instruction for 5 picture carriers.
Contents of the box:
5 rigid painting cardboards: 2 templates 263 x 476 mm, 2 templates 263 x 598 mm, 1 template 263 x 720 mm with canvas structure finish. Precise contours with well legible numbers. Water-based acrylic colors. Ready-to-paint pre-mixed colors. Brush with fine tip. Control template and detailed instructions for successful painting. Assembly instruction for 5 frameless picture carriers is enclosed in the package.
_________________________________________________________________________________
IT
Il soggetto:
Il nostro bosco
Il bosco è l'habitat di un gran numero di animali e di piante ed è altresì di vitale importanza per l'uomo e per la fauna: fungendo da "polmone verde", infatti, è indispensabile per la produzione di ossigeno e per la depurazione dell'aria. Purtroppo, però, i nostri boschi sono gravemente minacciati dal cambiamento climatico. Il quadro mostra tutta la bellezza di un bosco intatto, attraversato dai raggi del sole che illuminano il ruscello scorrentevi al centro gorgogliando sui massi che ne delimitano il corso. Il gioco di ombre e colori di questo singolare polittico costituisce una sfida particolarmente allettante per il pittore per hobby e, nel contempo, è un accorato appello a salvare il nostro bosco.
Misura del quadro e supporto per la pittura:
La nuova serie "Capolavori POLITTICO - Professional Edition" di SCHIPPER
In origine per polittico si intendeva una pala d'altare composta da più tavole. Il soggetto della "Professional Edition" è composto da 5 pannelli e, applicato a parete, ricopre una superficie di ca. 132 x 72 cm. La realizzazione del quadro richiede un lavoro preciso e paziente, nel contempo rappresenta una grande sfida perfino per le capacità tecniche del pittore per hobby più esperto. Il risultato ricompensa tuttavia ogni fatica! Infatti l'opera finita, presentata con orgoglio dall'artista per hobby, susciterà le lodi e l'ammirazione dell'osservatore colmo di stupore. Ogni confezione contiene le istruzioni per il montaggio del supporto per 5 quadri.
La confezione contiene:
5 pannelli in cartone robusto con struttura simil-lino: 2 elementi da 263 x 476 mm, 2 elementi da 263 x 598 mm, 1 elemento da 263 x 720 mm. Traccia dai contorni precisi con numeri ben leggibili. Colori acrilici a base di acqua (non serve mescolarli tra loro). Pennello sottile. Foglio di controllo e istruzioni dettagliate per un ottimo risultato. Istruzioni di montaggio per 5 pannelli senza cornice.
_________________________________________________________________________________
NL
Het motief:
Ons bos
Het bos is het leefgebied van talrijke dieren en planten. Het is van vitaal belang voor mens en dier en als "groene long" onmisbaar voor de toevoer van zuurstof en het schoonhouden van de lucht. Helaas worden onze bossen ernstig bedreigd door de klimaatverandering. Het motief toont de volle schoonheid van een natuurlijk bos dat baadt in de stralen van de zon, met een beekje dat er in het midden van de afbeelding doorheen stroomt, omgeven door rotsblokken. Het spel van schaduwen en kleuren van dit unieke polyptiek is een bijzonder aantrekkelijke uitdaging voor de hobbyschilder en tegelijkertijd een oproep om ons bos te redden.
Het beeldformaat en schildervoorbeeld:
De nieuwe serie "Meesterklasse VEELLUIK – Professionele editie" van SCHIPPER
Een veelluik noemde men oorspronkelijk een zogeheten vleugelaltaar met onderverdeelde schilderijen. Het motief van de "Professionele editie" is vijfdelig en bedekt een muuroppervlak van ca. 132 x 72 cm. Het maken van het schilderij vereist nauwkeurig en geduldig schilderen en stelt tegelijkertijd hoge eisen aan de schildervaardigheden van zelfs de ervaren hobbyschilder. Het resultaat is echter ruimschoots de moeite waard. Want het voltooide werk dat de hobbyschilder vol trots presenteert, ontlokt de verbaasde toeschouwer lof en bewondering. Montage-instructies voor 5 beelddragers zijn bij elke verpakking gevoegd.
De inhoud van de verpakking:
5 stevige schilderkartons: 2 voorbeelden 263 x 476 mm, 2 voorbeelden 263 x 598 mm, 1 voorbeeld 263 x 720 mm met linnenstructuur. Exacte contourtekeningen met goed leesbare getallen. Acrylverf op waterbasis. Verf mengen niet nodig. Fijne schilderpenseel. Controleblad en uitvoerige instructies voor succesvol schilderen. Bouwinstructies voor 5 lijstloze beelddragers.

Warning! Not suitable for children under 3 years due to small parts. Choking hazard!
Frequently bought together
Frequently bought together