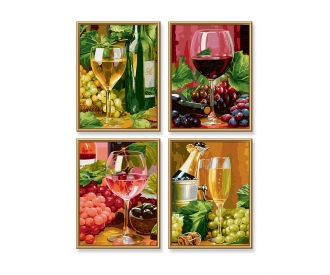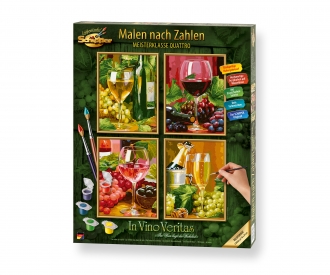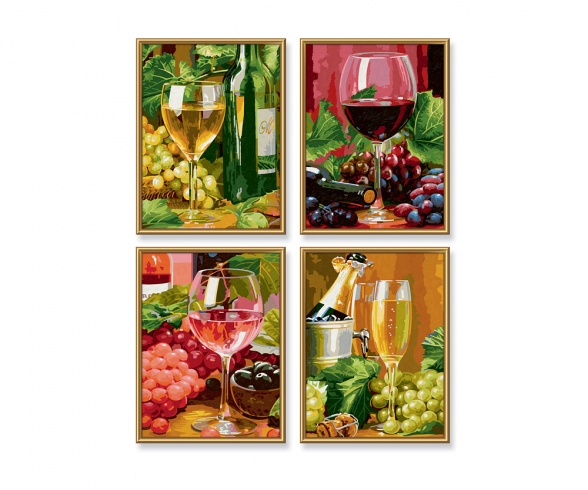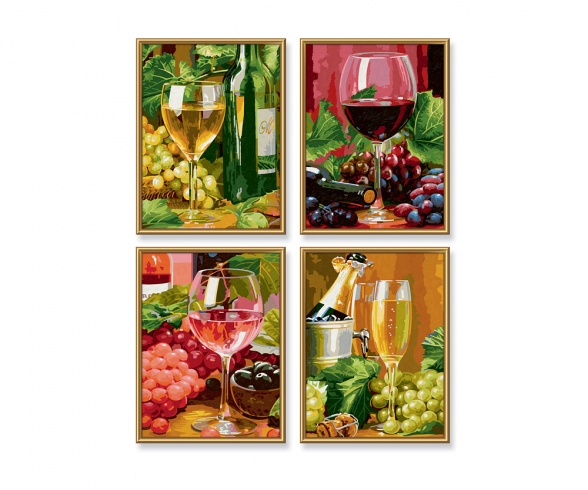 Quantity:
1
2
3
4
5
6
7
8
9
10
11
12
13
14
15
16
17
18
19
20
21
22
23
24
25
26
27
28
29
30
in stock, Delivery time 1-3 working days within Germany
The motif: "In Vino Veritas – in wine there is truth"
Wine has probably existed for more than 8000 years. Nowadays, it is part of social rituals in conjunction with a festive event. The Latin saying "In Vino Veritas – in wine there is truth" has originated in the Ancient World, since the drunk tend to speak the truth in most cases. White wine, read wine, rosé wine and sparkling wines are the most popular wines composed in 4 small paintings full of atmosphere for the hobby painter who should treat himself to a glass of wine himself when painting. …
The Picture format and painting template:
"MASTERPIECE QUATTRO" is the new series of paintings by SCHIPPER Arts & Crafts. The 4 pictures are sized 18 x 24 cm. The painting templates have a visible and palpable canvas structure. Due to this feature, the finished painting's appearance is not only essentially enhanced but it also emphasizes the artistic character of the paintings by supporting the desired "oil on canvas" effect. Hint: SCHIPPER Arts & Crafts has the matching aluminum frames on offer for this format. Please go to our menu bar "Frame Service".
Contents of the box:
4 rigid painting cardboards with canvas structure finish, size 18 x 24 cm. Precise pre-printed contours with well legible numbers. Water-based acrylic paints. Ready-to-paint pre-mixed colors. Brush with fine tip. Control template and detailed instructions for successful results.
...............................
I
Il soggetto: "In Vino Veritas: nel vino la verità"
Si presume che il vino esista da più di 8.000 anni. Oggigiorno è parte di un rituale sociale collegato a un evento festoso. Il detto latino "in vino veritas", nel vino la verità, è nato già nell'antichità a significare che chi alza un po' il gomito dice solitamente il vero. Bianco, rosso, rosato e spumante sono le varietà più apprezzate che si ritrovano raccolte qui in 4 piccoli quadretti suggestivi dedicati al pittore per hobby, il quale potrà tranquillamente godersene un goccio mentre lavora...
La Misura del quadro e supporto per la pittura:
"Meisterklasse QUATTRO" è la nuova serie della SCHIPPER Arts & Crafts. 4 dipinti in formato 18 x 24 cm. Il supporto per la pittura ha una struttura simil-lino, percepibile alla vista e al tatto, che non migliora soltanto di molto l'aspetto generale del quadro finito, bensì ne sottolinea anche il carattere pittorico suggerendo il desiderato effetto "olio su tela". Nota bene: la SCHIPPER Arts & Crafts dispone di cornici in alluminio adatte a questo formato. Vedi menu al punto "Servizio cornici".
La confezione contiene:
4 pannelli 18 x 24 cm in cartone robusto con struttura simil-lino. Traccia dai contorni precisi con numeri ben leggibili. Colori acrilici a base di acqua (non serve mescolarli tra loro). Pennello sottile. Foglio di controllo e istruzioni dettagliate per un ottimo risultato.
..............................
NL
Het motief: "In Vino Veritas – In de wijn ligt de waarheid besloten"
Wijn bestaat vermoedelijk al sinds ruim 8000 jaar. Terwijl wijn in vroeger tijden meestal bij religieuze handelingen wird gedronken en daarbij de gewenste extase nabijheid tot God moest scheppen, staat hij thans als onderdeel van een sociaal ritueel in verband met een feestelijke gebeurtenis. – Omdat dronkaards de waarheid spreken, ontstond al in de Oudheid de Latijnse spreuk "In Vino Veritas – In de wijn ligt de waarheid besloten". Witte wijn, rode wijn, rosé en schuimwijn zijn de populairste soorten. Hier samengesteld in 4 kleine, sfeervolle schilderijen voor de hobbyschilder, die zich tijdens het schilderwerk best een glaasje mag gunnen ....
Beeldformaat en schildervoorbeeld:
"Meesterklasse QUATTRO" is de nieuwe serie afbeeldingen van SCHIPPER Arts & Crafts. 4 afbeeldingen in het formaat 18 x 24 cm. De schildervoorbeelden hebben een voel- en zichtbare linnenstructuur. Daardoor wordt het schilderij uiteindelijk niet alleen mooier, maar wordt ook het geschilderde karakter van de afbeeldingen onderstreept en het gewenste "olie-op-doek-effect" ondersteund. N.B.: SCHIPPER Arts & Crafts heeft voor dit beeldformaat passende aluminium lijsten in het assortiment. Zie menubalk "schilderijlijst-service".
Inhoud van de verpakking:
4 stukken stevig schilderkarton 18 x 24 cm met linnenstructuur. Exacte contourtekeningen met goed leesbare getallen. Acrylverf op waterbasis in verschillende kleuren. Verf mengen niet nodig. Fijne schilderspenseel. Controleblad en uitvoerige instructies voor succesvol schilderen.

Warning! Not suitable for children under 3 years due to small parts. Choking hazard!
Frequently bought together
Frequently bought together