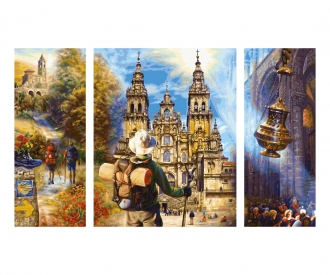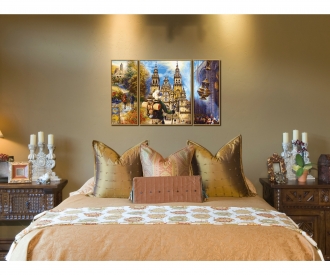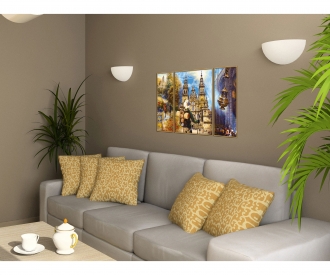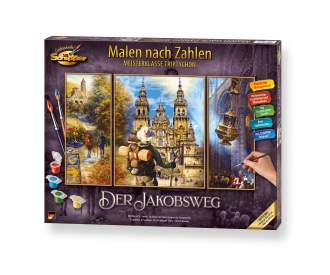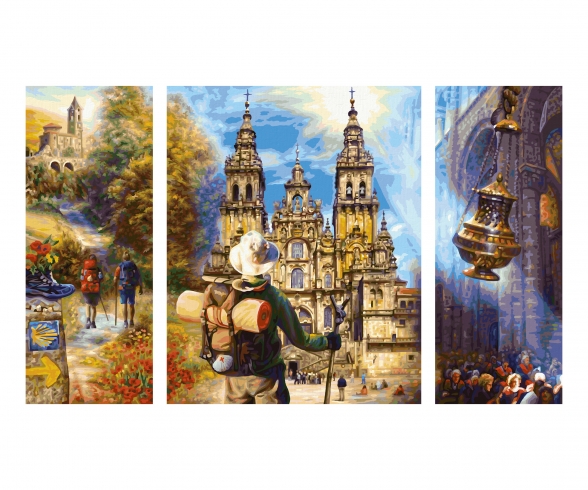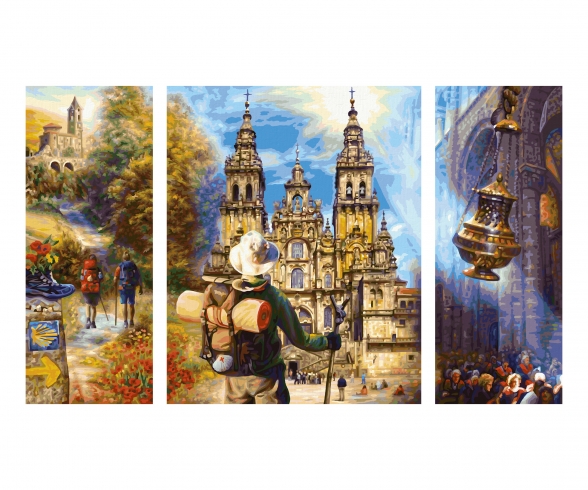 The Way of St. James - painting by numbers
Article number: 609260854
Age recommendation: from 14 years
Quantity:
1
2
3
4
5
6
7
8
9
10
11
12
13
14
15
16
17
18
19
20
21
22
23
24
25
26
27
28
29
30
Delivery time 1-3 working days within Germany
Product information
The Way of St. James
The Way of St. James is Europe's most famous pilgrimage path and is one of UNESCO's world heritage sites. Various routes across Central Europe all head for the main route in Northern Spain that ends where the presumed supulture of the apostle St. James is situated at Santiago de Compostela in Galicia. Its cathedral is the central place of pilgrimage. Going on a pilgrimage and following the "Camino de Santiago/Camino Frances" helps us to become aware again of the core values in life and it is said to have a positive effect on our body, soul and spirit. The motto saying "The journey is the reward" is ever so true on this route. The present motif puts the particular atmosphere, the symbolic power of pilgrimage and the pilgrim's cathedral into the limelight in an art work and expresses our special wishes linked with this journey in a painting. Another milestone for every hobby painter.
The Picture format and painting template:
"MASTERPIECE Triptych". A triptych is a picture composed of three individual paintings. The picture in the center is sized 40 x 50 cm, the pictures on the left and right side are sized 20 x 50 cm. The painting templates have a visible and palpable canvas structure. Due to this feature, the finished painting's appearance is not only essentially enhanced but it also emphasizes the artistic character of the paintings by supporting the desired "oil on canvas" effect. Hint: SCHIPPER Painting by Numbers offers you the fitting aluminum frames and passepartouts for this format. Please see our homepage - www.malennachzahlen-schipper.de – motifs/accessories for further information.
Contents of the box:
3 rigid painting cardboards with canvas structure finish. Picture in the center measures 40 x 50 cm, pictures on both sides measure 20 x 50 cm each. Precise pre-printed contours with well legible numbers. Water-based acrylic paints. Ready-to-paint pre-mixed colors. Brush with fine tip. Control template and detailed instructions for successful results.

Warning! Not suitable for children under 3 years due to small parts. Choking hazard!
Frequently bought together
Frequently bought together