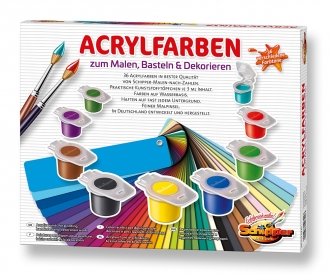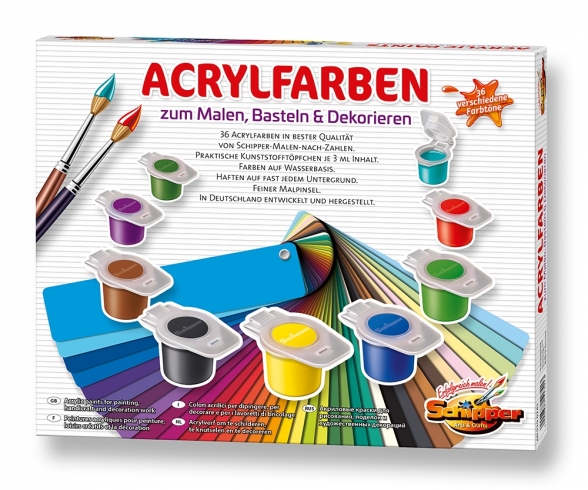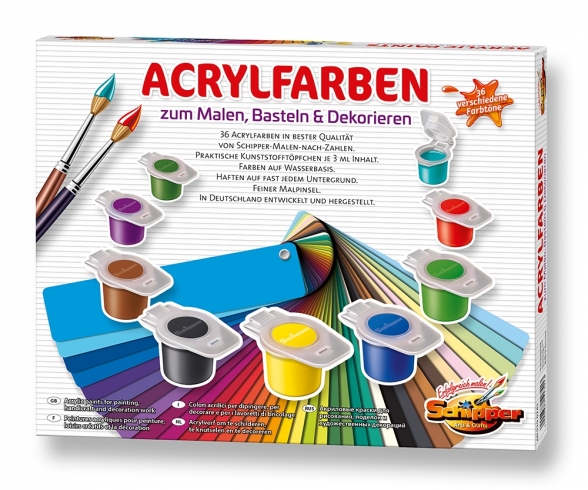 Quantity:
1
2
3
4
5
6
7
8
9
10
11
12
13
14
15
16
17
18
19
20
21
22
23
24
25
26
27
Acrylic paints for painting, handicraft and decoration work
Brand-new and unprecedented! 36 different colors in one set. Superior quality by SCHIPPER Painting by Numbers, developed and manufactured in Germany, filled into convenient small plastic pots with 3 ml contents each. The paints are water-based and adhere to nearly every surface. Apart from 24 mixed hues based on the primary colors blue, red, yellow and green according to Isaac Newton's color circle, the set also comprises 6 colors based on white, black and brown up to delicate pastel colors in 6 different shades. In addition, the set contains 1 fine brush, empty pots for mixing of colors and detailed instructions on the use of the colors.
Important hint!
This item's colors do not correspond with the paint colors of the Painting by Number paintings.

Warning! Not suitable for children under 3 years due to small parts. Choking hazard!
Frequently bought together
Frequently bought together